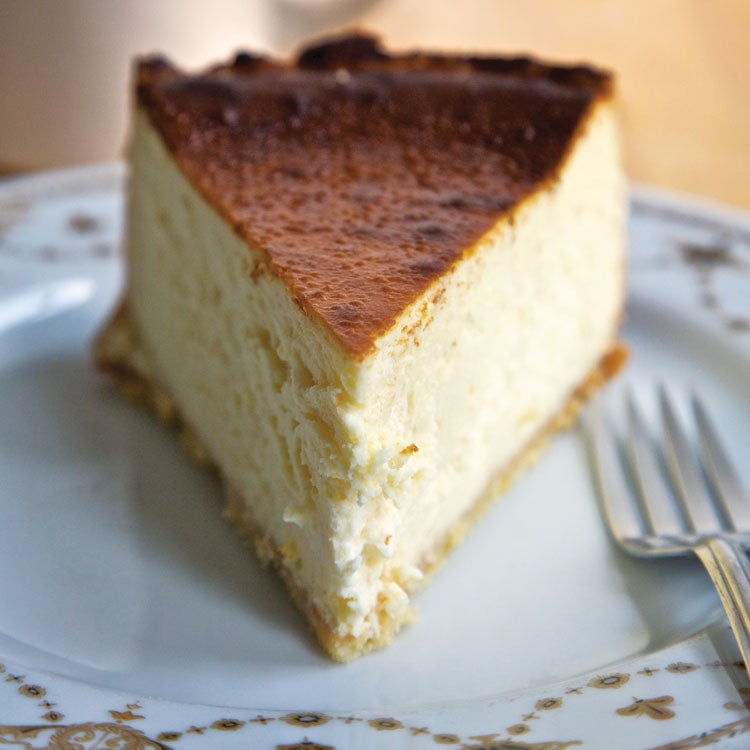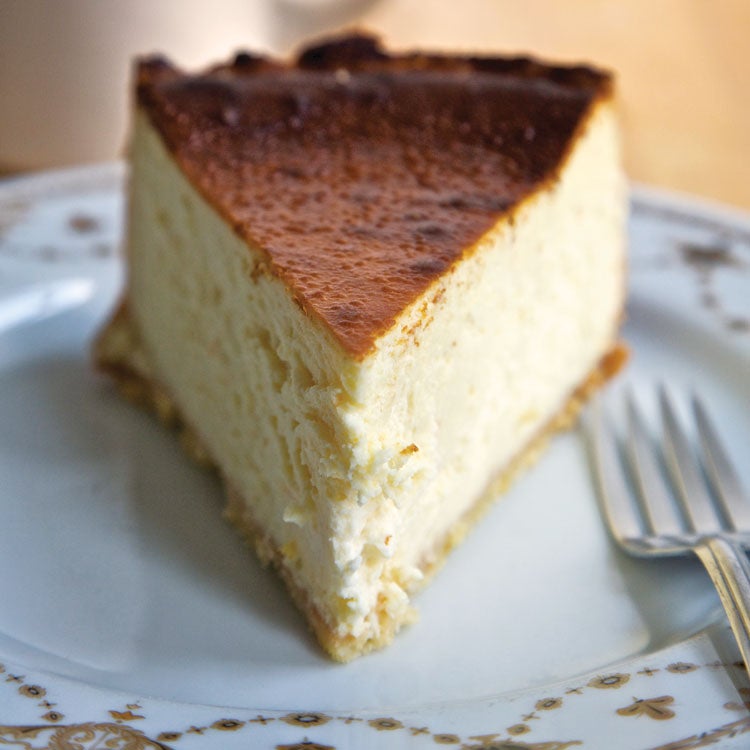 New York deli man Arnold Reuben claimed he was the first to serve cheesecake. But it was his competitor, Leo Lindemann, who hired away Reuben's pastry chef to re-create the dessert at his place, Lindy's, and made it an icon. Lindy's is gone now, but the cheesecake recipe remains. —Arthur Schwartz, from "Cream of New York" (November 2006)
See all 150 classic recipes featured in our 150th issue »
Equipment
Lindy's Cheesecake
New York deli man Arnold Reuben claimed he was the first to serve cheesecake. But it was his competitor, Leo Lindemann, who hired away Reuben's pastry chef to re-create the dessert at his place, Lindy's, and made it an icon.
For the Crust
1 cup flour
8 tbsp. unsalted butter, cubed
1⁄4 cup sugar
1 tsp. lemon zest
1⁄4 tsp. salt
1 egg yolk
1⁄2 vanilla bean, seeds scraped and reserved
For the Filling
2 1⁄2 lb. cream cheese, softened
1 1⁄4 cups sugar
3 tbsp. flour
1 1⁄2 tsp. orange zest
1 1⁄2 tsp. lemon zest
1⁄2 tsp. vanilla extract
5 whole eggs, plus 2 yolks
1⁄4 cup heavy cream
Instructions
For the crust: Combine flour, butter, sugar, zest, salt, yolk, and vanilla seeds in a bowl; rub with fingers until dough forms. Form dough into 2 rounds; wrap each in plastic wrap. Chill for 1 hour. Press 1 dough round onto bottom of a 9″ springform pan; pull off pieces from remaining dough and press around sides of pan. Set aside.
For the filling: Heat oven to 500°. Beat cream cheese, sugar, flour, zests, and vanilla in a large bowl on medium-high speed of a hand mixer until smooth. Add eggs and yolks, one at a time, beating after each addition, until smooth; stir in cream. Pour filling into pan, and bake until top begins to brown, about 15 minutes. Reduce heat to 200°, and bake until just set, about 1 hour more. Transfer to a rack, and let cool completely. Cover and refrigerate at least 8 hours or overnight. Remove cake from pan and cut into slices to serve.