Recipes
Meiwei Mogu Naiyou Dong Zhrou (Savory Mushroom and Pork Custard)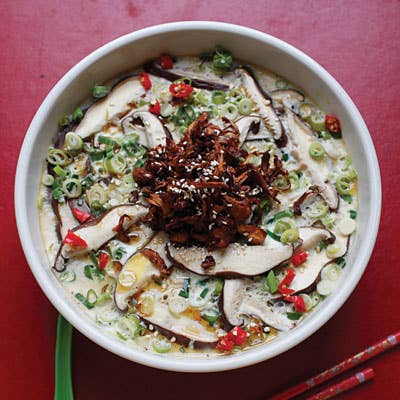 This steamed egg custard is studded with gingery pork meatballs and topped with crisp fried chanterelles. This recipe first appeared in SAVEUR Issue #140, along with Beth Kracklauer's story Season of Plenty.
Ingredients
4 oz. ground pork
2 tsp. minced fresh ginger
1 tsp. kosher salt, plus more to taste
2 tbsp. peanut oil, plus more for frying
4 fresh shiitake mushrooms, stemmed and thinly sliced
10 eggs, lightly beaten
1 cup chicken stock
Freshly ground black pepper, to taste
3 scallions, thinly sliced
6 oz. chanterelle mushrooms, thinly sliced
1 tsp. toasted sesame seeds
2 red Thai chiles, stemmed and thinly sliced
1 tsp. toasted sesame oil
Instructions
Step 1
Combine pork, ginger, and 1 tsp. salt in a bowl; form mixture into about nine 1″ meatballs. Heat 2 tbsp. oil in a 10″ skillet over medium-high heat; add meatballs and cook, turning, until browned, about 5 minutes. Transfer meatballs to a 2-qt., 9″-diameter round baking dish or heatproof bowl and scatter shiitake mushrooms over top. In a bowl, whisk eggs, stock, and salt and pepper; pour over meatballs and shiitakes; sprinkle 3⁄4 of the scallions over top.
Step 2
Pour water to a depth of 1″ into an 8-qt. Dutch oven and bring to a boil over high heat; reduce heat to medium and place a rack or steamer basket in bottom of pot. Place baking dish inside pot and cover pot with lid. Cook for 20 minutes, and then turn off heat and let sit, covered, until custard is completely set, about 15 minutes more.
Step 3
Meanwhile, pour peanut oil to a depth of 2″ in a 6-qt. Dutch oven; heat over medium-high heat until a deep-fry thermometer reads 350°. Add chanterelle mushrooms and fry, until crispy, about 1 minute; transfer to paper towels to drain.
Step 4
To serve, scatter remaining scallions, fried chanterelle mushrooms, sesame seeds, and chiles over custard and drizzle with sesame oil. Spoon out onto individual plates.