Monte Cristo Sandwich Recipe
Learn how to make the perfect Monte Cristo sandwich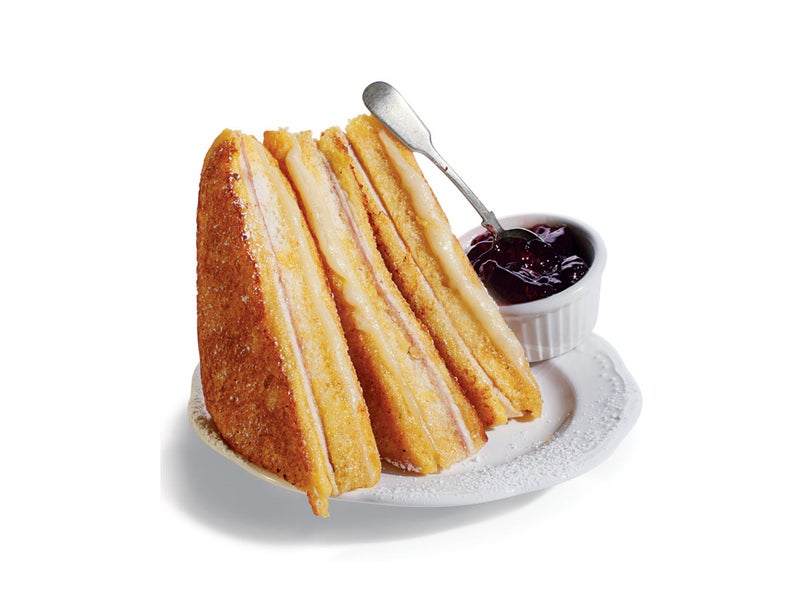 People have strong opinions about the Monte Cristo sandwich, a double-decker of Swiss cheese, ham, and chicken or turkey, battered, fried, and dusted with confectioners' sugar, served with jelly on the side. Some consider it a marvel; others, an absurdity. Whatever else it may be, the Monte Cristo is a stunning creation, requiring careful assembly and, at the table, a knife and fork. —Carolynn Carreño, from "Fried Nirvana?" (April 1998)
Monte Cristo
A double-decker of Swiss cheese, ham and turkey, battered, fried, and dusted with confectioners' sugar, the Monte Cristo has inspired many lively debates.
Ingredients
1⁄4 cup milk
2 eggs
Kosher salt and freshly ground black pepper, to taste
5 tbsp. unsalted butter, softened
6 pieces thinly sliced white bread
4 thin slices cooked turkey
4 thin slices cooked ham
4 thin slices Swiss cheese
Confectioners' sugar, to garnish
Red currant jelly, for serving
Instructions
Lightly beat milk and eggs in a shallow bowl. Season with salt and pepper and set aside. For each sandwich, lightly butter 3 slices of bread on both sides (using about 1⁄2 tbsp. of butter for each sandwich). Place 2 slices each of turkey and ham between 2 slices of bread. Top each with 2 slices of cheese, and then top with third slice of buttered bread. Trim crusts, secure with toothpicks, and cut in half on the diagonal.
Melt 2 tbsp. butter in a 12″ nonstick skillet over medium heat. Dip sandwich halves in milk mixture to coat. When butter foams, place sandwiches in skillet and fry until golden brown on bottom, about 2 minutes. Add remaining 2 tbsp. butter to skillet, turn sandwiches, and fry until browned on other side, about 2 minutes more. Transfer to plates, sprinkle with confectioners' sugar, and serve with jelly.