Recipes
Mozzarella in Carozza (Italian-Style Fried Cheese Sandwiches)
Step aside, Kraft Singles.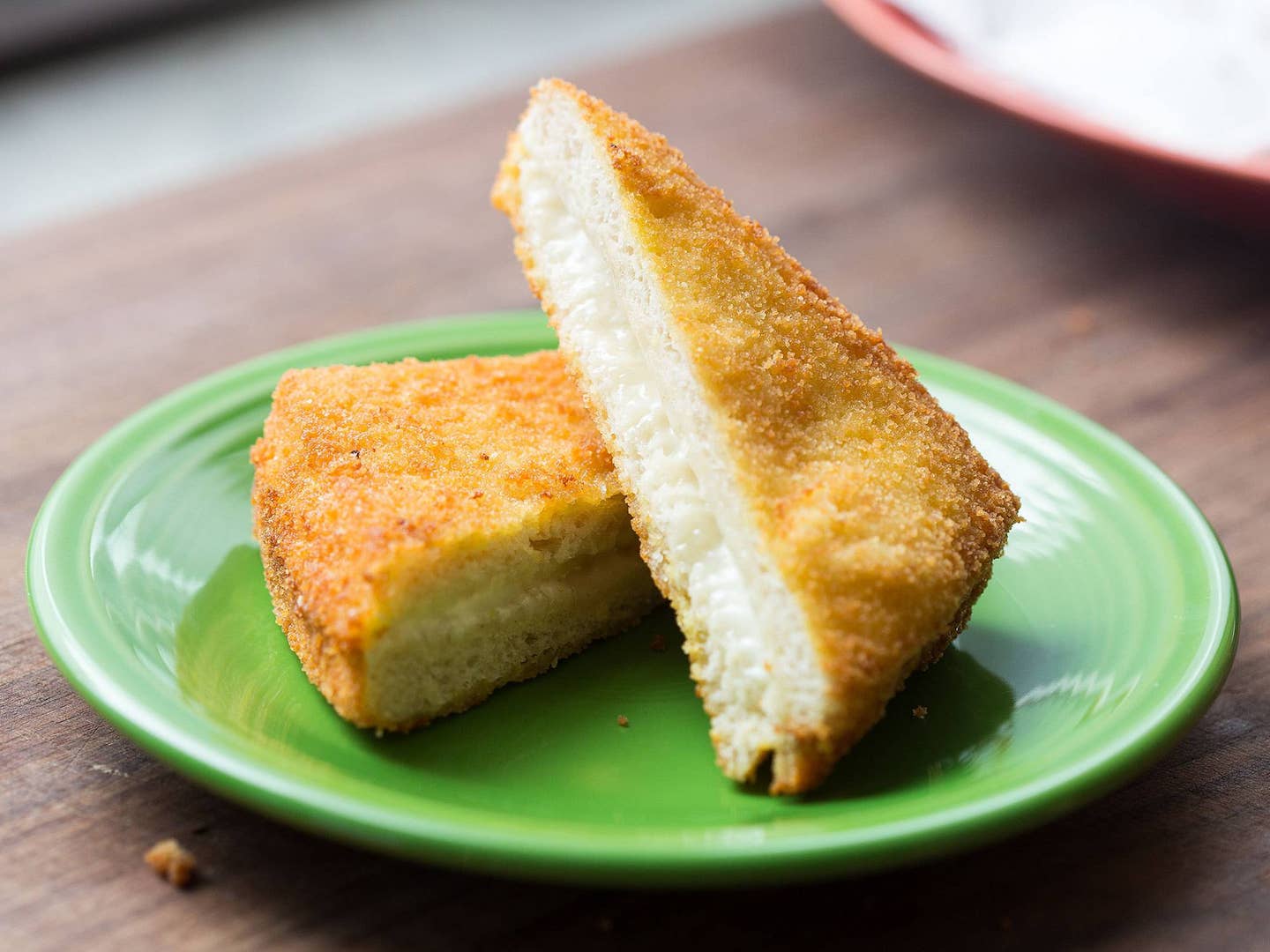 Inspired by the small bites known as cicheti that food writer Dana Bowen ate in Venice, these crisp mini-sandwiches are deep-fried and filled with molten cheese. Although you could use panko or Italian bread crumbs like you would for fried mozzarella sticks, homemade is preferrable. For more melty cheeses, check out our favorite grilled cheese sandwich recipes.
Ingredients
6 oz. sliced mozzarella
8 slices white sandwich bread
Kosher salt and freshly ground black pepper
1⁄2 cup all-purpose flour
2 large eggs, lightly beaten
1 cup plain bread crumbs, preferably homemade
Vegetable oil, for frying
Instructions
Step 1
Divide the mozzarella slices over 4 slices of the bread. Season with salt and black pepper to taste and cover with the remaining slices to make 4 sandwiches. Remove the crusts and halve the sandwiches diagonally.
Step 2
Line a baking sheet with parchment paper. Place the flour, eggs, and bread crumbs in three separate bowls. Dredge one sandwich triangle in the flour, then coat with the egg and then the bread crumbs, and place it on the baking sheet. Repeat with the remaining sandwiches.
Step 3
Line a large plate with paper towels. Into a large Dutch oven set over medium-high heat, pour the oil to a depth of 2 inches and attach a deep-fry thermometer. When the temperature reads 350°F, fry the sandwiches in batches until crisp and golden, flipping once, about 2 minutes. Use tongs to transfer to the plate to absorb any excess oil, and serve immediately.
Watch how to make Fried Mozarella Cheese Sandwiches