Recipes
How to Make Creamy Grits
Our best creamy grits recipe.
Serves

serves 4-6

Cook

30 minutes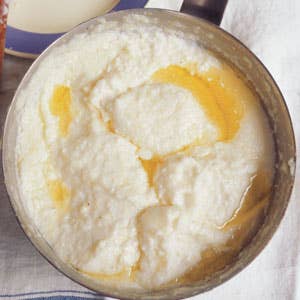 Another thing to keep in mind: No self-respecting Southerner uses instant grits. Homemade grits are easy to prepare, and well worth a tiny bit of extra care. Stone ground grits will yield the best texture but they do take longer to cook; remove their chewy outer chaff for the creamiest results.
We like these grits best served hot from the stove, with over-easy fried eggs or shrimp.
Ingredients
2 cups water, or more
2 cups milk, or more
1 cup stone-ground or regular grits
kosher salt
1⁄4 cup heavy cream
2 Tbsp. unsalted butter
Instructions
Step 1
Heat the 2 cups water and milk in a heavy-bottomed saucepan until just simmering.
Step 2
While the milk is heating, put the stone-ground grits into a large mixing bowl and cover with cool water. Stir the grits assertively so that the chaff floats to the top. Skim the surface carefully and remove the chaff. Drain the grits in a fine strainer. (If you are using regular grits, skip this step.) Stir grits into the simmering water and milk. Cook, stirring often, until the grits are tender to the bite and have thickened to the consistency of thick oatmeal. As the grits thicken, stir them more often to keep them from sticking and scorching. Regular grits are done in about 20 minutes, but stone-ground require an hour or a little more to cook, and you will have to add additional milk and water as needed.
Step 3
Season the grits generously with salt and stir in the cream and butter. Remove from heat and let rest, covered, until serving. Serve hot.