Arugula Pesto (Pesto di Rucola)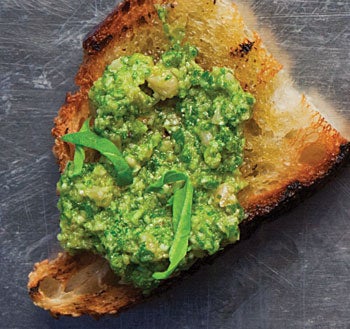 This peppery pesto is fantastic drizzled over steamed artichokes, grilled fish, or ripe tomatoes. This recipe first appeared in SAVEUR Issue #140 along with Laura Schenone's story Glorious Pesto
Arugula Pesto (Pesto di Rucola)
This peppery pesto is fantastic drizzled over steamed artichokes, grilled fish, or ripe tomatoes.
Yield:
makes About 1 3/4 Cups
Ingredients
2 cups packed arugula
1 cup extra-virgin olive oil
1⁄2 cup finely grated pecorino
1⁄2 cup finely grated parmesan
1⁄3 cup pine nuts
1 tbsp. lemon zest
1 clove garlic, chopped
Kosher salt and freshly ground black pepper, to taste
Instructions
Process arugula, oil, pecorino, parmesan, nuts, zest, and garlic in a food processor until finely chopped; season with salt and pepper.