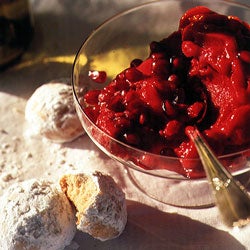 This sorbet is brilliantly colored and traditionally very sweet. We used less sugar than usual to accentuate the flavor of the fruit. If served as a palate cleanser, the slightly sour flavor is especially desirable.
Yield: makes 1 Quart
Instructions
Place sugar, 1 cup water, and pomegranate juice in a large saucepan. Bring to a boil over low heat, stirring constantly. Remove from heat and cool to room temperature. Refrigerate until well chilled. Process in an ice cream maker according to manufacturer's instructions. Serve garnished with pomegranate seeds.