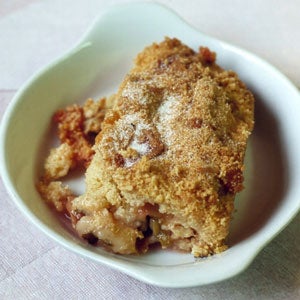 This basic crumble recipe can use various fruits in season. A summer favorite in Ireland is made with plums poached with cinnamon. Crumbles may be served alone, or with ice cream or clotted cream.
Yield: serves 6-8
Ingredients
2 lb. rhubarb stalks, cut into 1″ pieces
1 (¼") piece ginger, peeled and finely minced
2 1⁄2 cups sugar
2 cups flour
Pinch salt
14 tbsp. unsalted butter, cut into small pieces
Instructions
Preheat oven to 350°. Put rhubarb and ginger into a medium bowl and toss together, mixing thoroughly. Transfer to a large baking dish. Sprinkle 2 cups of the sugar over rhubarb mixture and set aside.
Whisk flour, salt, and the remaining ½ cup sugar together in a medium bowl. Using a pastry cutter or two table knives, work butter into flour mixture until it resembles coarse meal flecked with pea-size pieces of butter. Scatter topping evenly over rhubarb mixture.
Transfer dish to oven and bake until topping is golden brown and rhubarb is soft, about 1 hour and 15 minutes. Set aside to cool on a wire rack at least 10 minutes before serving warm, or allow to cool to room temperature.