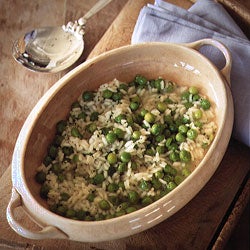 Rice and Peas
Using the freshest peas of spring makes this dish simply scrumptious.
Ingredients
3 tbsp. butter
1 yellow onion, peeled and finely chopped
3 lb. fresh peas, shelled to yield 3 cups
Pinch of salt
1 cup Chicken Stock
1 cup arborio rice
2 tbsp. chopped fresh flat-leaf parsley
Grated parmigiano-reggiano
Instructions
Melt butter in a medium saucepan over medium heat. Add onions and cook for 5 minutes. Add peas and salt, and cook, stirring constantly, for 2 minutes.
Add chicken stock and 2 cups water, and bring to a boil. Stir in rice and parsley, reduce heat to medium-low, cover, and cook, stirring occasionally, until rice is al dente and peas are very soft, about 20 minutes.
Adjust seasonings and serve immediately before rice absorbs liquid. Top with grated parmigiano-reggiano, if you like.