Recipes
M'sakhan (Roast Chicken with Onion, Sumac, and Allspice)
A savory Palestinian classic served over soft flatbread.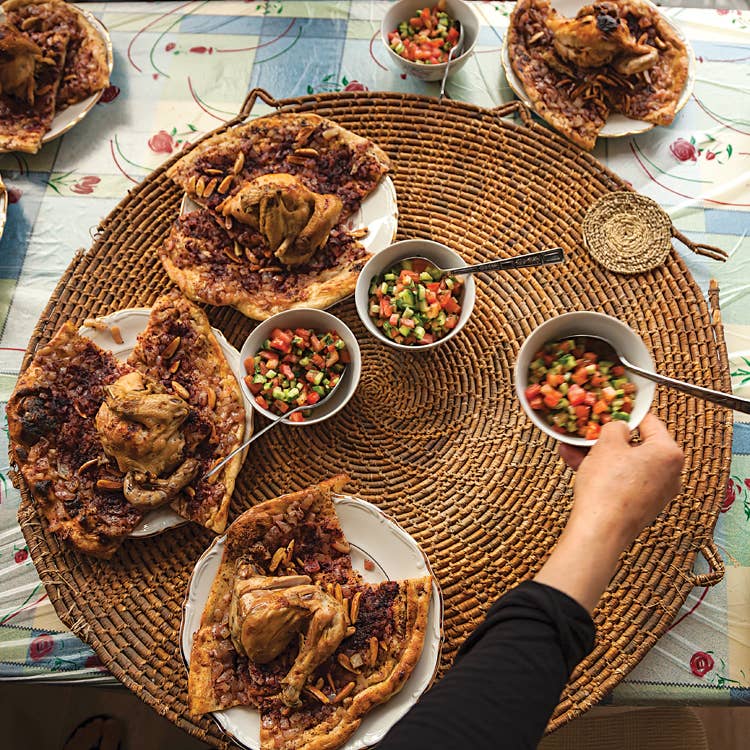 Tart sumac balances sweet caramelized onions in m'sakhan, a Palestinian roast chicken and flatbread dish traditionally baked in a wood-fired oven called a taboon. This recipe first appeared in our December 2013 issue along with Nancy Harmon Jenkins' article "Heart of Palestine."
Ingredients
1 1⁄2 cups flour, plus more
1 tsp. kosher salt, plus more to taste
3⁄4 cup water, heated to 115°
1 1⁄2 tsp. sugar
1 (1/4-oz.) package active dry yeast
1 (3 1/2-4-lb.) chicken, quartered
Freshly ground black pepper, to taste
3⁄4 cup olive oil, plus more for greasing
1⁄2 cup ground sumac
1⁄2 tsp. ground allspice
1⁄2 tsp. ground cinnamon
2 large yellow onions, minced
1⁄2 cup chicken stock
2 tbsp. unsalted butter
1 cup slivered almonds
Instructions
Step 1
Whisk flour and salt in a bowl. Combine water, sugar, and yeast in the bowl of a stand mixer fitted with a hook; let sit until foamy, about 10 minutes. With the motor running, slowly add flour mixture; mix until dough forms, about 3–4 minutes. Cover with plastic wrap; set in a warm place until doubled in size, about 1 hour.
Step 2
Divide dough into 2 balls. Transfer to a lightly greased baking sheet; cover with a damp towel and set aside 45 minutes. Toss chicken with 1⁄3 cup oil, 3 tbsp. sumac, half each the allspice and cinnamon, 1⁄3 of the onions, plus salt and pepper in a bowl; set aside 20 minutes.
Step 3
Heat oven to 425°. Heat a 12" heatproof skillet over medium-high heat. Season chicken with salt and pepper; cook, flipping once, until browned, 6–8 minutes. Arrange skin side up, and add stock; bake until chicken is cooked, 25–30 minutes. Transfer chicken to a plate; keep warm. Transfer pan drippings to a bowl; set aside.
Step 4
Add remaining oil to skillet; place over medium heat. Add remaining onions; cook until golden, 25–30 minutes. Stir in remaining sumac, allspice, and cinnamon, plus salt and pepper; transfer to a bowl. Wipe skillet clean and melt butter over medium-high heat. Add almonds; cook until golden, 3–5 minutes.
Step 5
Increase oven to 475°. Working with 1 ball dough at a time, roll into a 10" disk about 1⁄8" thick. Transfer to a parchment paper-lined baking sheet. Brush dough with reserved pan drippings and spread half the onion mixture over dough, leaving a 1⁄2" border. Bake until bread is puffed and golden brown, 8–10 minutes. To serve the m'sakhan, cut bread into wedges and place on 4 plates. Arrange chicken over flatbread, sprinkle with almonds, and drizzle with any remaining pan juices.