Rose Pistola's Calamari Cakes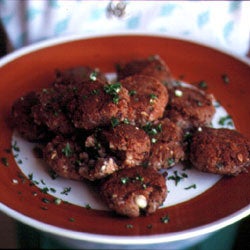 We picked up this trick from the legendary "old stove," Rose Pistola, for whom the dish is named. She dubbed it "ordinary," but we beg to differ—a dish this delicious can only be described as extraordinary.
Rose Pistola's Calamari Cakes
This recipe makes good use of the squid tentacles left over when making a dish that only uses the bodies.
Ingredients
1 cup cleaned squid tentacles
2 cups fresh bread crumbs
4 tbsp. <a href="https://www.saveur.com/article/Recipes/Three-Cheese-Mixture">Three-Cheese/ Mixture</a>
4 cloves garlic, minced
4 tbsp. finely chopped parsley
Salt and freshly ground black pepper
1 egg
4 tbsp. olive oil
Instructions
Place tentacles in a food processor, then pulse 6 times for a finely chopped consistency. Transfer to a bowl; add bread crumbs, cheese, garlic, 3 tbsp. of parsley, salt and pepper to taste, and egg. Mix well.
Wet hands to prevent mixture from sticking. Form several round "cakes" 2″–3″ wide. Fry cakes in hot oil in a large skillet for about 3 minutes per side or until browned. Drain on paper towels. To serve, garnish with remaining parsley.