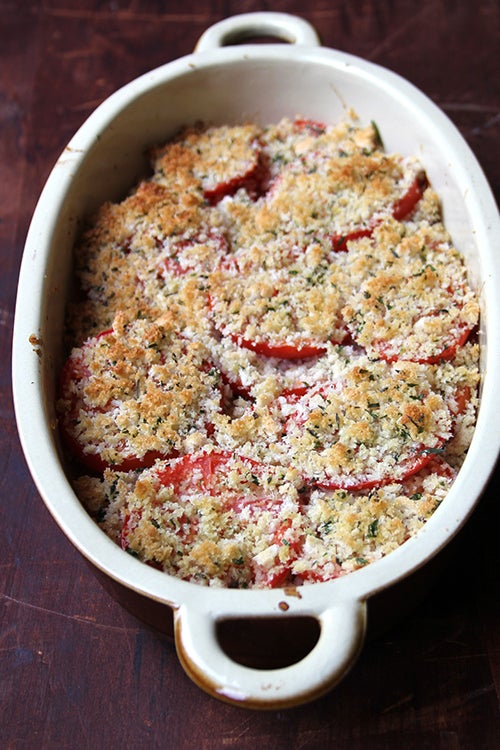 Ripe and juicy tomato slices topped with herbs, butter, and toasty breadcrumbs make a wonderful summer side.
Scalloped Tomatoes
Here's a delicious way to use fresh, juicy tomatoes from your garden or the local farmers' market.
Ingredients
4 cups fresh bread crumbs
1⁄4 cup melted butter or extra-virgin olive oil
2 tbsp. chopped fresh chives
2 tbsp. chopped fresh parsley
1 tbsp. fresh thyme leaves
Salt and freshly ground black pepper
6 ripe tomatoes, thickly sliced
Instructions
Preheat oven to 375°. Combine bread crumbs, butter (or oil), chives, parsley, thyme leaves, and salt and pepper to taste.
Press half the bread crumb mixture into a large baking dish to form a "crust." Bake until lightly golden, about 10 minutes.
Remove dish from oven, arrange a layer of tomatoes over bread crumbs, and sprinkle with more bread crumbs. Repeat process until tomatoes are used up, ending with a layer of bread crumbs. Bake until crumbs are golden and tomatoes are warm, about 10 minutes.