Garides Saganaki (Shrimp with Tomatoes and Feta)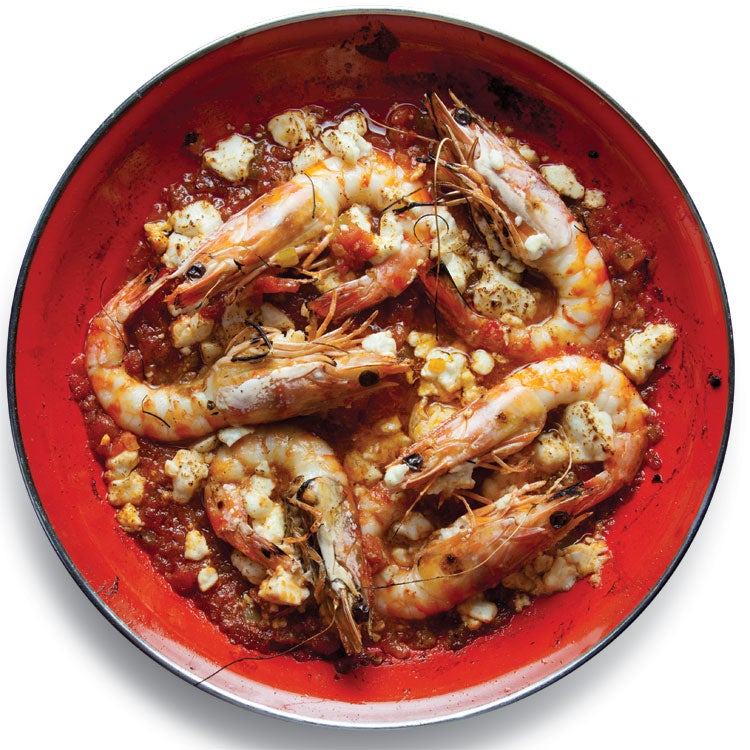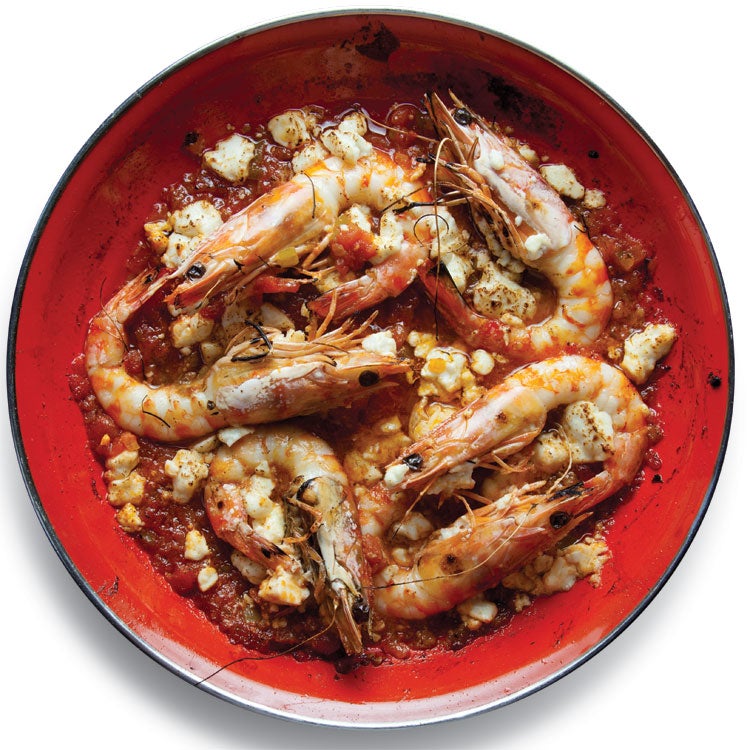 The Greek dish_ garides saganaki,_ a bubbling concoction of shrimp, tomatoes, onions, peppers, and feta spiked with a shot of ouzo, was invented in the 1950s, most likely at a restaurant in a seaport like Thessaloniki. Some flambeed the dish tableside, popularizing it among tourists. It's now a standard on Greek menus, and quick and satisfying to make at home.—Diane Kochilas, from "Seaside Saganaki" (June/July 2005)
Garides Saganaki (Shrimp with Tomatoes and Feta)
The Greek dish garides saganaki, a bubbling concoction of shrimp, tomatoes, onions, peppers, and feta spiked with a shot of ouzo, was invented in the 1950s, most likely at a restaurant in a seaport like Thessaloniki.
Ingredients
2 tbsp. extra-virgin olive oil
1⁄2 small yellow onion, finely chopped
1⁄2 medium hot green chile, stemmed and finely chopped
1 1⁄4 cups canned whole, peeled tomatoes in juice, crushed by hand
Kosher salt and freshly ground black pepper, to taste
6 large head-on shrimp (about 12 oz.), bodies peeled (heads and tail shells left intact), deveined
4 oz. Greek feta, coarsely crumbled
2 tbsp. ouzo
1 tbsp. finely chopped parsley
Instructions
Heat broiler to high. Heat oil in an 8″ round metal gratin dish or a heavy ovenproof skillet over medium heat. Add onion and chile, and cook, stirring often, until soft, about 5 minutes. Stir in tomatoes, and season to taste with salt and pepper; cook until slightly thickened, about 4 minutes.
Arrange shrimp in dish, spoon some sauce on top, and continue to simmer until shrimp are pink and just cooked through, about 2 minutes per side. Scatter feta around shrimp, then transfer dish to broiler, and broil until feta begins to melt, about 2 minutes. Remove dish from broiler. Warm ouzo in a tiny pot over low heat, then ignite it with a kitchen match and pour over shrimp and feta. When flames die out, garnish dish with parsley, and serve.