Spinach with Pine Nuts and Raisins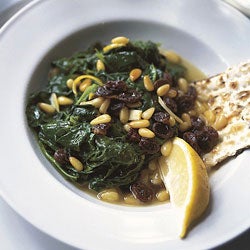 Federal Hill, the Italian-American corridor of Providence, Rhode Island, is home to some amazing dishes, including this one.
Spinach with Pine Nuts and Raisins
A popular Roman-Jewish specialty, this dish is simple but exquisite.
Ingredients
2 tbsp. raisins
3 tbsp. extra-virgin olive oil
1⁄2 small onion, peeled and chopped
2 cloves garlic, peeled and thinly sliced
2 bunches spinach, washed and trimmed
3 tbsp. toasted pine nuts
1 tbsp. fresh lemon juice
8 thin strips of lemon zest
Salt and freshly ground pepper
Instructions
Soak raisins in a bowl of cold water for 10 minutes; drain and set aside.
Heat olive oil in a large skillet over medium heat. Add onion and garlic, and cook until soft, 4–5 minutes.
Add spinach and cook, stirring, 1 minute. Cover and cook, stirring, until wilted, 2–3 minutes. Add pine nuts, lemon juice, lemon zest, and raisins. Season to taste with salt and freshly ground black pepper. Serve with lemon wedges and matzo, if you like.