Squid with Feta Cheese and Tomatoes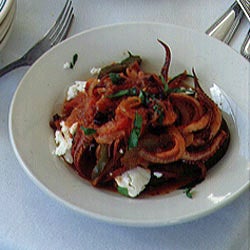 Squid is a Greek favorite and is often eaten during Greek Orthodox Lent when red meat is forbidden.
Squid with Feta Cheese and Tomatoes
In the ouzo bars of Athens, this dish is served as a meze, or appetizer, and is meant to be shared with good friends.
Ingredients
2 tbsp. olive oil
1 small onion, thinly sliced
1 small green bell pepper, thinly sliced
1 jalapeño, seeded and diced
2 cups canned plum tomatoes, drained and coarsely chopped
1 small fresh tomato, coarsely chopped
2 lb. cleaned squid (with tentacles)
1⁄2 cup dry white wine
2 tbsp. finely chopped parsley
1⁄4 cup crumbled feta
Instructions
In a medium saucepan, heat oil over medium heat. Add onions, peppers and jalapeños, and cook until vegetables have softened, about 10 minutes. Stir in canned and fresh tomatoes. Remove from heat and set aside.
Slice squid into 2″ pieces. Place in a large dry skillet over medium heat and cook until squid releases and then reabsorbs its juices, 15–20 minutes.
Add wine and cook 2 minutes. Add tomato–pepper mixture and simmer until sauce thickens, about 30 minutes. Stir in parsley. Spoon onto a serving platter and sprinkle feta over top.