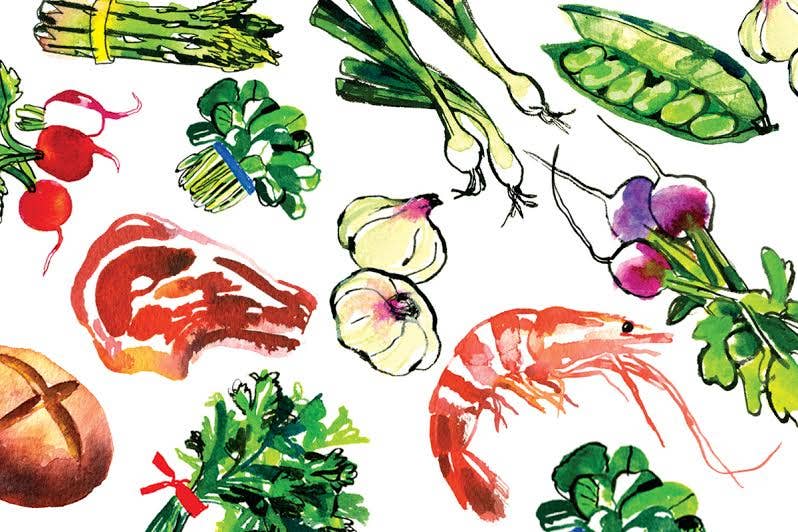 Recipes
Sticky Rice Dumplings Wrapped in Bamboo Leaves
Rice dumplings are traditionally larger and boiled, but these petite versions are steamed. Boneless pork shoulder, found in Chinese butcher shops, is often sold in large pieces with the skin still attached. Trim the skin off, but leave a thin layer of fat to flavor and provide moisture to the dumplings.
1/2 cup Chinese dried black mushrooms
1/2 cup dried small shrimp
1 lb. boneless pork shoulder, trimmed
of tough skin and cut into 1" pieces
Salt and freshly ground white pepper
3 cloves garlic, crushed and peeled
2 star anise
1/4 tsp. five-spice powder
1/2 cup soy sauce
1/3 cup shaoxing jiu (Chinese rice wine)
2 1/2 cups raw sticky rice
44-48 dried bamboo leaves
22-24 small shelled roasted chestnuts
1. Put mushrooms into a medium bowl and cover with hot water. Put a small plate on top of mushrooms to keep them submerged. Soak mushrooms until soft, 30 -60 minutes. Put shrimp into a small bowl, cover with hot water, and let soak until soft, about 30 minutes. Drain shrimp and set aside. Drain mushrooms, trim off and discard stems, and thinly slice caps.
2. Put pork into a large bowl and season with salt and pepper. Add mushrooms, shrimp, garlic, star anise, five-spice powder, soy sauce, and wine; mix well. Cover and refrigerate for 8 hours.
3. Put rice into a large bowl, cover with cold water, and swish around with your hand until water clouds. Drain. Repeat process until water remains clear, 4-5 more times. Drain rice and return it to the bowl. Set a colander over the rice and strain pork marinade into bowl over rice. Discard garlic and star anise from colander, transfer pork mixture to a medium bowl, cover, and refrigerate. Stir 1/2 cup cold water into rice mixture, cover, and refrigerate for 4 hours.
4. Put bamboo leaves into a very large bowl or the sink basin fi lled with hot water. Put a large sturdy plate on top of leaves to keep them submerged. Let leaves soak for at least 30 minutes.
5. To assemble the dumplings, stack 2 of the bamboo leaves on top of each other, with stems facing the same way. Twist leaves to form a wide-mouthed cone in the center of the leaves with stem and pointy tip ends fl aring out to the sides. Holding cone in one hand, drop a chestnut into bottom of cone with the other hand to block any rice from falling out. Stuff cone with 1 tbsp. of the rice, then about 2 tbsp. of the pork mixture, then with another spoonful of the rice (B), in that order. Cover fi lling by folding broad part of the pointy-tip end of leaves over the rice, pressing fi lling into cone, and then doubling the leaves back and forth on themselves, accordion-fold style, until filling is completely enclosed. Lay packet down on a clean surface with cone tip facing up toward you. Fold in edges of protruding stem end near wide opening of cone. Fold cone over and away from you, wrapping wide end of cone with leaves, to form a triangle. Fold remaining stem ends of leaves around triangle, forming a tight seal, then wrap kitchen twine around dumpling several times to securely shut them; then tie a knot to close. Repeat process with remaining leaves, chestnuts, rice, and pork mixture to make about 24 dumplings in all.
6. Place dumplings in the top part of a steamer, tied ends facing up and leaning against one another (depending on the size of your steamer, you may need to use a couple of pots to steam all the dumplings at once, or you can steam the dumplings in batches, quickly steaming the fi rst batches for 10 minutes to reheat them). Place steamer over pot of boiling water over medium-high heat. Cover steamer and steam dumplings until rice and pork are cooked, 21/2-3 hours, adding water to pot as necessary. Let cool slightly, then discard twine, unwrap, and serve in the leaves, if you like.
Variation: If you don't have a large enough steamer or you don't want to tend the water level when steaming the dumplings, you may boil them instead. Follow directions above, adding an extra 1/4 cup of soy sauce to the marinade. Pack dumplings snugly into a large heavy pot and add enough water that it reaches about 1/2" from tips of dumplings. Cover pot, bring to a boil, then simmer dumplings over medium-low heat for 3 hours. Drain and serve as above.