Sweet Corn and Black Raspberry Ice Cream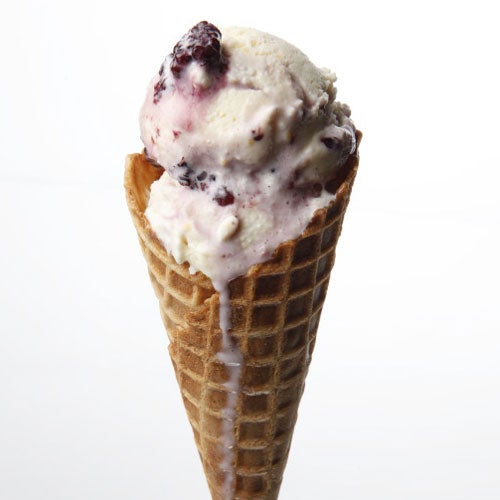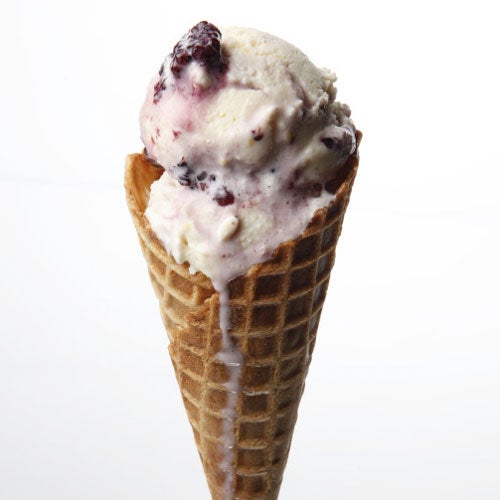 Jeni's Splendid Ice Creams in Columbus, OH has some of the most amazing flavors around, but they all start with one simple base. This recipe, which first appeared in SAVEUR Issue #140 along with Molly O'Neill's story Here's the Scoop, combines the silky flavor of corn with the tartness of black raspberries.
Yield: makes About 1 Quart
Ingredients
For the Ice Cream
2 cups milk
4 tsp. cornstarch
1 ear of corn
1 1⁄4 cups heavy cream
2⁄3 cup sugar
2 tbsp. light corn syrup
1⁄4 tsp. kosher salt
3 tbsp. cream cheese, softened
For the Sauce
1 cup black raspberries or blackberries
1⁄2 cup sugar
Instructions
Make the ice cream: In a bowl, stir together 1⁄4 cup milk and the cornstarch; set slurry aside. Cut kernels off cob of corn and cut cob into large chunks; reserve kernels and cob together. In a 4-qt. saucepan, whisk together remaining milk and the cream, sugar, syrup, and salt; add corn kernels and cob and bring to a boil over medium-high heat. Cook for 4 minutes; stir in slurry. Return to a boil and cook, stirring, until thickened, about 2 minutes. Pour mixture through a fine strainer into a bowl and discard corn solids.
Place cream cheese in a bowl and pour in 1⁄4 cup hot milk mixture; whisk until smooth. Then whisk in remaining milk mixture. Pour mixture into a plastic bag; seal, and submerge in a bowl of ice water until chilled. Pour mixture into an ice cream maker; process according to manufacturer's instructions.
Make the sauce: Combine black raspberries and 1⁄2 cup sugar in a 1-qt. saucepan over medium-high heat, and cook, stirring, until thick, about 8 minutes; strain and chill.
After churning, alternate layers of ice cream and berry sauce in a storage container before freezing.