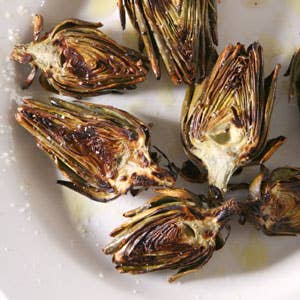 Techniques
Great Grilling: From Appetizers to Dessert
From stone fruits to steak, everything tastes better cooked over an open flame.
The summer's quickly fading away, but before it disappears, check out these recipes before you fire up the grill one last time.
If it's steak you're craving, you can't get more classic than a porterhouse with blue cheese butter. The earthiness of the cheese complements the slightly smoky char that the steak picks up on the grill. Add some grilled vegetables, and you've got the perfect summertime meal.
One of our favorite warm-weather desserts is grilled fruit, and we think that stone and citrus fruits work the best: the caramelization of the natural sugars only brightens the fruits' flavor. For a light dessert, try burnt oranges with rosemary, and add a dollop of thick Greek yogurt on the side. You'll be happy that you didn't let summer get away so quickly.—Julie Wilson, Saveur