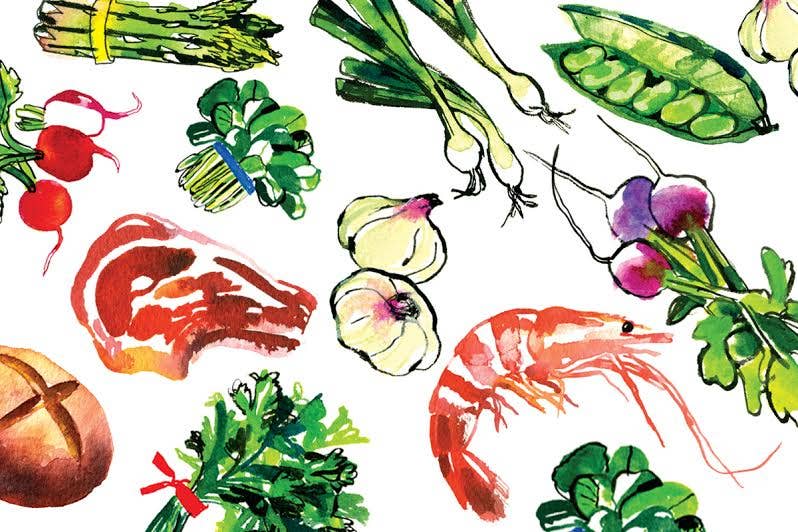 Recipes
Tortellini with Peas and Prosciutto
Famous as a post-opera dinner, tender fresh peas in the pod are tossed with cheese tortellini in a fragrant cream sauce and garnished with crisp prosciutto.
**Kosher salt, to taste
12 oz. fresh peas in the pod
2 lb. fresh cheese-filled tortellini
6 oz. prosciutto, torn into small pieces
¼ cup olive oil
6 cloves garlic, finely chopped
¼ cup tomato paste
¼ cup heavy cream
½ cup finely grated parmesan, plus more for serving
2 tbsp. thinly sliced parsley
Freshly ground black pepper, to taste
1. Bring a large pot of salted water to a boil. Add peas in pod and cook until crisp-tender and bright green, about 2 minutes. Using a slotted spoon, transfer to a bowl of ice water and let sit for 1 minute. Drain and dry with paper towels; cut diagonally into ½" slices and set aside. Add tortellini to boiling water in pot and cook until al dente and filling is cooked through, about 3 minutes; drain pasta, reserving about 2 cups pasta water.
2. Heat oil in a 12" skillet over medium-high heat; working in batches, add prosciutto, and cook, turning once, until crisp, about 3 minutes. Using a slotted spoon, transfer prosciutto to paper towels to drain, and when cool, break apart into 1" pieces; set prosciutto aside and pour off and discard half the oil. Add garlic to skillet, and cook until fragrant, about 2 minutes. Add tomato paste, and cook until lightly caramelized, about 2 minutes. Add about 1½ cups pasta water, and bring to a boil; cook until reduced slightly, about 6 minutes. Add cream and cook until thickened, about 8 minutes more. Add peas and tortellini, and cook until warmed through and sauce coats pasta, about 3 minutes. Stir in parmesan, half the parsley, and season with pepper; transfer to a serving bowl, and garnish with reserved prosciutto, remaining parsley, and more parmesan, if you like.