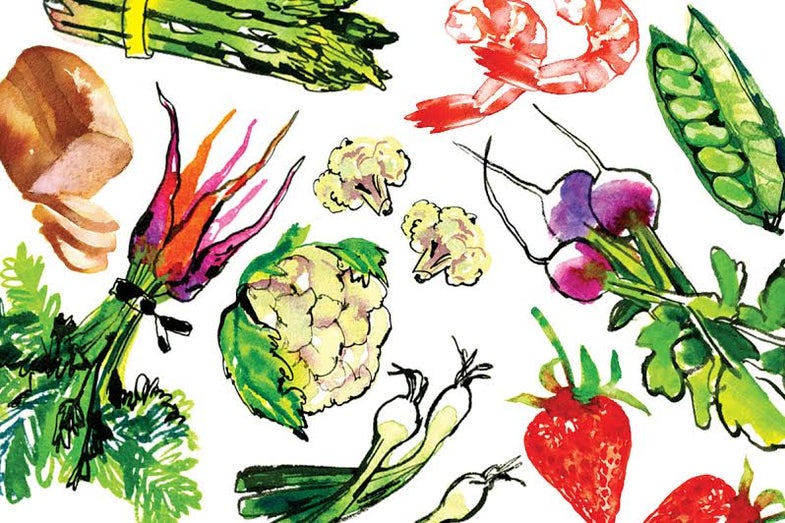 Here's an easy tip to ensure a successful Thanksgiving: Have plenty of homemade turkey stock on hand. It will serve as the starting point for your gravy, keep your stuffing moist, and elevate any recipe that calls for store-bought chicken stock. To save yourself time on Thanksgiving day, you can make turkey stock up to four days in advance (or several weeks if you store it in the freezer). This recipe has been excerpted from The Perfect Bird: How to Roast the Best Thanksgiving Turkey.
Turkey Stock
A good homemade turkey stock will ensure a tasty Thanksgiving gravy and moist, savory stuffing.
Yield:
makes About 7 Cups
Ingredients
5-6 lb. of turkey parts, chopped into 4″ pieces (a mix of necks, wings, and legs is ideal)
8 cups water, divided
1 large carrot, coarsely chopped
1 large yellow onion, coarsely chopped
1 rib of celery, coarsely chopped
1⁄2 tsp. kosher salt
1⁄2 tsp. whole black peppercorns
1 bay leaf
Instructions
Pat the turkey parts dry with paper towels, arrange them in a single layer in a large flameproof roasting pan, and roast them in a 450° oven, flipping them with tongs after 30 minutes, for an hour total, until nicely browned.
Transfer the roasted parts to a four- or five-quart saucepan. Don't worry if bits stick; you'll capture them when you deglaze the pan. Place the roasting pan over your largest burner (you can use two burners if that's a better fit), turn the heat to high, and add two cups of the water. Bring to a boil, scraping the bottom with a wooden spoon to dissolve any cooked-on drippings, and then pour the liquid into the saucepan.
Add enough additional water to the saucepan to just cover the turkey pieces; any more can result in a diluted broth. Depending on the shape and size of your pot and turkey parts, you'll probably need about seven to eight cups of water total. Bring to just below a boil over medium high heat, and immediately lower the heat to a very gentle simmer. Skim any foam or scum that rises to the top, and add the remaining ingredients. Continue to simmer, uncovered, until the stock has a sweet, rich turkey flavor, about two and a half to three hours.
When the stock is done, set a fine-mesh strainer over a heatproof bowl. (If you don't have a fine-mesh strainer, line a colander with a double thickness of cheesecloth.) Strain the stock, pushing gently on the solids to extract as much liquid as you can but not so hard as to mash the vegetables—this will cloud the stock and give it a murky flavor. Let the stock sit on the counter until it cools to room temperature, and then cover and refrigerate for up to four days. Once completely chilled, remove the layer of surface fat. You can freeze for up to six weeks.