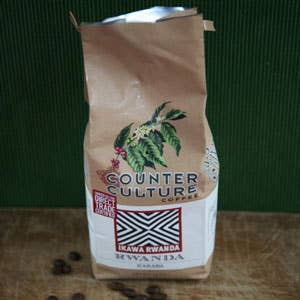 Drinks
9 Great Coffees
These diverse and delicious international brews are worth getting out of bed for.
The coffee universe has expanded exponentially in recent years, thanks to specialty roasters in the vanguard of the industry who carefully source and oversee the processing of coffees in far-flung locales. These companies generally put an emphasis on fine arabica beans (of which there are several distinctive varietals), fair-trade practices, and freshness. The sheer number of choices may seem bewildering, but it has also made it easier than ever to find an excellent morning cup. We sampled more than a hundred brews from around the globe; the following represent the best of the range of flavors, aromas, and body that's out there.
1. COUNTER CULTURE COFFEE, KARABA (Durham, North Carolina; $11.75 for 12 ounces) Though Rwanda's coffee industry was nearly destroyed during that country's civil war in the 1990s, its growers are now garnering praise for excellent coffees whose complex flavors reflect the region's unique terroir. An aroma of molasses and notes of nutmeg and cinnamon characterize this bean, an heirloom variety that was introduced to Rwanda by French missionaries and has been cultivated in the country's southwest for nearly a century.
2. GIMME! COFFEE, SUMATRA ISKANDAR (Ithaca, New York; $14.25 for 1 pound) This upstate New York company sources beans from the Iskandar region of Sumatra, on the western end of the Indonesian archipelago, where the volcanic soil and tropical climate combine to produce ideal growing conditions and coffee with a spicy aroma and a robust, cedary taste. Gimme! uses convection ovens to roast beans in small, 40-pound batches—a technique that yields deeply flavorful results.
3. SANT'EUSTACHIO, ITALIAN ROAST (Rome, Italy; $20 for 8.45 ounces) Rome's 70-year-old Caffe Sant'Eustachio, which sits just a stone's throw from the Pantheon, is loved by Romans and tourists alike. Its Italian Roast—a custom blend of beans from Guatemala, the Dominican Republic, Mexico, Brazil, and Tanzania—has an alluring gingerbread and vanilla scent and is roasted by owner Roberto Ricci, who uses a 60-year-old wood-fired roasting machine.
4. STUMPTOWN COFFEE ROASTERS, GUATEMALA FINCA EL INJERTO (Portland, Oregon; $15.50 for 1 pound) With a faint taste of rose petals and a toasted-almond finish, this delicate, medium-roast coffee shines when drunk without milk or sugar. Arturo Aguirre has grown and processed the bourbon varietal beans on his farm, El Injerto, in Huehuetenango, Guatemala, since 1956 and, along with his son, Arturo Jr., is known for a meticulous attention to detail that has twice helped the family win the prestigious Cup of Excellence coffee award.
5. INTELLIGENTSIA COFFEE AND TEA, HACIENDA LA ESMERALDA (Chicago, Illinois; $30.00 for 8 ounces) In 2004, this estate rose to fame after one of its coffees—a rare heirloom varietal of arabica, called geisha—won the Best of Panama coffee competition, causing buyers to swoon (and prices to soar). With a heady nose of chocolate and berries and a bright flavor reminiscent of oolong tea's, Esmeralda has a profile that doesn't match the mild one typical of Central American coffees. Indeed, the geisha plant is believed to have originated in Ethiopia and been transplanted later to Costa Rica and Panama, where it grows today.
6. GREEN MOUNTAIN/NEWMAN'S OWN ORGANICS, NELL'S BREAKFAST BLEND (Waterbury, Vermont; $7.49 for 10 ounces) Green Mountain Coffee Roasters is known for selling quality beans for the mass market, but that doesn't diminish the appeal of its Nell's Breakfast Blend (produced in partnership with Newman's Own Organics). With a boldness taken from Peruvian beans and a depth from Indonesian ones, this excellent standby held its own handily against the pricier competitors we tested.
7. 49TH PARALLEL COFFEE ROASTERS, ORGANIC ETHIOPIA YERGA CHEFFE KONGA COOPERATIVE (Burnaby, Canada; $14.10 for 12 ounces) Ethiopia, the birthplace of coffee, still produces some of the most complexly flavored beans in the world. The valley of Yerga cheffe is renowned for beans with a distinctive, lemony taste; this particular variety adds notes of cherry and anise to the mix. Though 49th Parallel is only three years old, the Canadian company has already earned praise for its focus on flavor and diversity in the sourcing of African beans.
8. METROPOLIS COFFEE COMPANY, SAN RAFAEL LOT 1 (Chicago, Illinois; $18.25 for 1 pound) An inviting, woody aroma, notes of honey and blackberry, and a well-structured body distinguish this coffee grown in the foothills of the Colombian Andes, where the high elevation and humid climate yield coffee that is mild yet satisfying. A handful of other notable single-origin coffees are also available from Metropolis, an award-winning five-year-old Chicago-based company.
9. PEET'S COFFEE & TEA, MAJOR DICKASON'S BLEND (Berkeley, California; $12.95 for 1 pound) Established in 1966, Peet's was among the first American companies to source and roast beans to order. (In fact, when Starbucks started up, Peet's supplied it with coffee and trained its staff.) This blend of Central American and Indo-Pacific beans, the company's signature product, possesses a mellow nose and an intense but round, nutty taste.