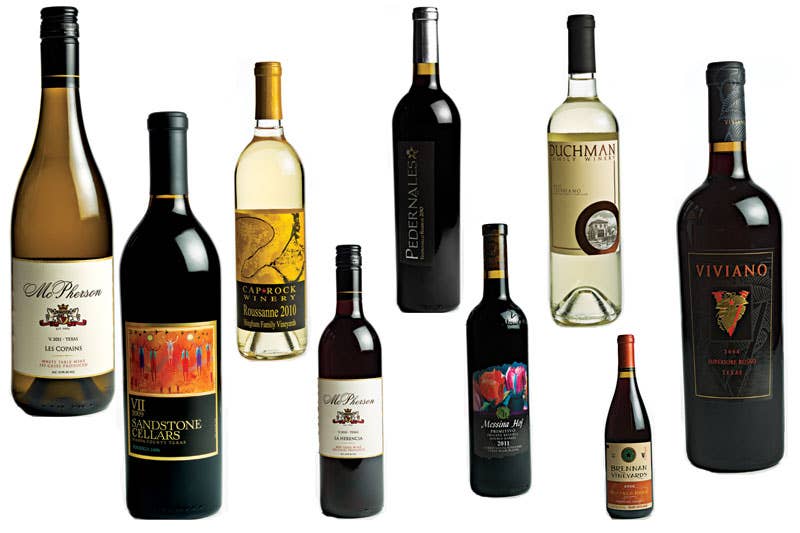 Drinks
9 Great Texas Hills and Plains Wines
at wines from Texas show off grapes that are best adapted to the state's dry climate and sandy soil
No wonder it's the fifth-largest grape-growing state (after the West Coast states and New York); there's so much land in Texas that its two biggest wine regions—the Hill Country and the High Plains—total a whopping 17 million acres. Still, only a fraction of that area is planted; though Texas wine was well-established in the early 1900s, the vines that settlers brought were abandoned during Prohibition. In 1976, when winemaking resumed, the grapes planted were those in vogue: cabernet, merlot, chardonnay. None of them made great wine here. For that, you need desert-friendly grapes that like heat, drought, and sandy soil. "It's taken awhile, but in the last ten years they've started planting syrah, mourvedre, tannat, vermentino, all the white Rhone varieties, and Spanish varieties like tempranillo, all of which are much better adapted to the climate," says Texas native and Master of Wine Christy Canterbury. "And the wines show it."
McPherson Les Copains 2011 ($14) Dr. Clinton A. "Doc" McPherson founded Texas's first post-Prohibition winery in 1976. Today, his son Kim is the state's most influential producer. At his High Plains winery, he makes this light, herbaceous Rhone-style white blend. It resembles pink grapefruit in both its slightly blushing hue and its zesty, citrus-laced acidity. It's a great wine for a warm day.
Sandstone Cellars VII 2009 ($30) From a boutique winery attached to a taqueria in the small Hill Country town of Mason, this bone-dry but racy red is made with 100 percent touriga nacional grapes, a primary variety used in Portugal to make port. It's spicy, smoky, and savory, with notes of fennel and dusty road. What better to pair it with than carne asada tacos?
CapRock Roussane 2010 ($18) A white Rhone grape variety with a distinctly herbal aroma, roussane is gaining ground in Texas. Using fruit grown on the High Plains, where hot days and cool nights help grapes develop acidity, this is a savory wine, with hints of dried rose and verbena, a pleasing touch of bitterness, and a lush body. It's good for grilled fish as well as the holiday bird.
McPherson La Herencia 2010 ($14) Like a velvet glove on a clenched hand, this tempranillo-based blend has a smooth, gorgeous mouth-feel that finishes with tannic grip. Its cranberry-orange flavor is perfect for Thanksgiving.
Messina Hof Private Reserve Primitivo 2011 ($22) Bronx-born Italian-American winemaker Paul Bonarrigo founded Messina Hof in 1977, the third of Texas's modern-day wineries. This juicy, fruity red, made with Italy's primitivo grape (identical to California's zinfandel), is accented with tobacco, liquorice, and mesquite. It's an awesome wine for Texas ribs.
Pedernales Reserve Tempranillo 2010 ($30) From a small but excellent family-run winery in Texas Hill Country, this Spanish varietal (Pedernales' flagship wine) opens with a gloriously funky, earthy aroma. It tastes of mixed berries and cake spices, with an easy acidity that makes you want another sip. Also try the Pedernales GSM, a smoky, juicy Rhone blend.
Duchman Family Trebbiano 2010 ($13) This Hill Country expert in Italian varietals makes an aglianico that tastes of dates and cinnamon, along with other rich reds. But this refreshing white shows the winery's lighter side. With just a touch of tropical fruit flavor, it's so crisp and clean that it's almost thirst-quenching. Begin Thanksgiving dinner with this and a dozen raw oysters.
Brennan Buffalo Roam 2010 ($16) Smelling deliciously of brown sugar, vanilla, and a just a bit of fertile earth, this Rhone-style red develops both ripe red fruit and savory beef jerky flavors on the palate. If you're serving wild turkey or another game bird for the holiday meal, this is the wine to drink.
Llano Estacado Viviano 2008 ($35) From the High Plains winery that Doc McPherson and his partner Bob Reed started back in the mid-1970s, this predominantly cabernet sauvignon-sangiovese blend tastes bigger than its 12.7 percent alcohol. With an herbaceous funk to its nose, strong tannins, and an austere minerality, it starts off as serious as Gary Cooper in High Noon. But its dark fruit opens up in the glass, and then it's delicious with a porterhouse steak.