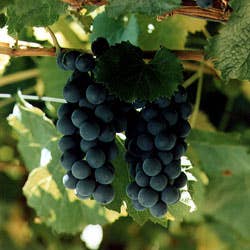 Malbec is a minor blending grape in Bordeaux today, and is found scattered around other French vineyard regions; a bit of it is used in the legendary Spanish wine Vega Sicilia; there's some in California, Uruguay, and Chile. But only two places produce any quantity of wines that are all or mostly malbec: the Cahors region of France (where the grape, confusingly, is called auxerrois—also the name of a white-wine grape in Alsace) and Argentina.
Malbec came to Argentina as a generic, called simply the "French grape," and for years was used there only in blends. It did so well in the soil and climate of the Mendoza region, though, that local winemakers started vinifying it alone. By itself, it offered bold fruit flavor (perfect with Argentina's sublime and ubiquitous beef) and enough tannin to give it substantial aging possibility.
Today, Argentine producers make fine chardonnay and cabernet, but it is malbec for which they are best known—and which seems to offer them their best chance to establish their own identity in the wine world. Now that it's coming to the U.S., it's up to the marketers to decide whether it will be the next big varietal in this country—the syrah or sangiovese of the late '90s—or die on the vine.