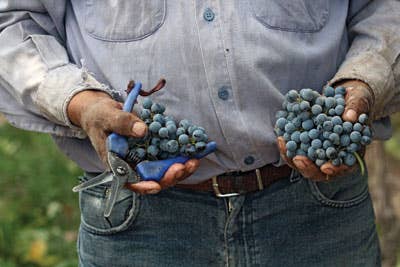 Drinks
Why We Love Argentine Wine
Seven new reasons to sample the fruits of this South American country's vines.
Argentina ranges from the Andes to the Atlantic, from the subtropical north to the sub-Arctic south. Within its vast geography, as mid-19th-century European immigrants discovered, there are great places to grow grapes. But it wasn't until 2002, when producers began exporting in earnest, that the rest of us got to taste what Argentines had been drinking all along. Argentina now sends nearly 7 million cases of wine to the U.S. yearly, most of it just one varietal: malbec. Big, dark, and often affordable, malbec has appealed to wine drinkers used to rich California reds. In recent years, though, tastes have changed, and Argentine vintners are responding with new ways of making their wines. Here are seven categories of Argentine wine that you'll want to taste now.
When Michel Aime Pouget brought the malbec grape from Cahors to Argentina in 1853, winegrowers found that the terroir there could also yield burly reds. Today, as tastes for high alcohol and tannins in wine diminish, Argentines are styling malbec in a more elegant, food-friendly fashion. A good strategy for finding softer, prettier malbecs is to seek out recent vintages. Most malbec is grown in Mendoza, Argentina's top wine-producing region, located in the central west, where last year's cold snaps slowed grapes' ripening, resulting in even, vivid wines that are delicious to drink now. The Recuerdo Malbec 2010 ($22) mixes zesty spice with flamboyant fruit, while Yauquen Malbec 2010 ($12) offers cherry, mineral, and sandalwood notes. Even in the 2009 and 2008 vintages, you can see more gentleness. Susana Balbo Signature Malbec 2008 ($25) delivers earth and funk and balanced acid. The bouquet on the Finca Altamira 2009 ($120) from the acclaimed Bodega Achaval Ferrer is lighter and merrier, with a hint of vanilla, while its velvety mouth shows plums, spice, and a long, powerful finish.
Malbec might be their big export, but bonarda is what Argentines drink at home. Not to be confused with the same-named grape from Italy's Piedmont, Argentine bonarda comes from the Savoie, in eastern France, where it is known as charbonneau. More delicate than malbec, it allows the character of the terroir to shine through, picking up notes of farmyard and forest. Medium-bodied and rustic, it's an ideal wine to drink with lighter meats. Bodegas Nieto Senetiner excels at bonarda; their medium-bodied 2009 is full of beaujolais-like berries ($15), while the 2008 Limited Edition is meaty and suave ($34). From La Rioja north of Mendoza, the La Puerta Gran Reserva Bonarda 2007 ($35), with its hints of leather and minerals, proves that the grape can age a bit.
photo by Dominio Del Plata/Pachy Reynoso
If there's an Argentine white likely to become as popular as malbec, it's torrontes. A relative of muscat, flowery torrontes displays muscat's characteristic lychee perfume. A decade ago, the wines contained more sugar and more alcohol. Today, winemakers like Nieto Senetiner, whose sweet-tart 2010 torrontes ($12) is almost Riesling-like, are producing fresher, drier, more acidic wines that are perfect as aperitifs. The most famous region for torrontes is Cafayate, in the northwestern province of Salta. Here, torrontes enjoys cool nights, resulting in electric wines like the leafy, peachy Trapiche Broquel Torrontes 2010 ($15). More creamy and buttery, the Argento Torrontes Procedencia Salta 2010 ($12) still exhibits zip; it's a great wine to sip with spicy or grilled seafood.
Patagonia, at the bottom of South America, is a land of pine forests and icy streams. Its winemaking area is chilly and windy enough to produce lively fruit with zingy acids. This is good news for cold-loving pinot noir, which tends to take on great textural complexity here. Bodega NQN Malma Finca La Papay Pinot Noir 2010 ($15) beautifully represents pinot's lighter side; its ruby hue and strawberry notes make it like a beaujolais, but with extra depth. A notch up in body is Bodega Chacra's Barda Pinot Noir 2010 ($20), a shimmering, cherry-tinged wine.
Traditionally, Argentine vines were planted on valley floors, where the warmth guaranteed ripening, and the land was easier to farm. But higher altitude brings a greater variation in daytime and nighttime temperatures, which slows ripening, captures acidity, and deepens flavors. The sunlight is also more intense higher up, which thickens grape skins, leading to vibrant fruit. Today, a number of fine wineries—Salentein, Finca Sophenia, Andeluna, Zorzal—are clustered around Tupungato, a town named after a nearby peak so tall that its moniker means "star observatory" in the native Huarpe language. Zorzal Climax Malbec 2008 ($43) shows strains of jam and cassis, ravishing fruit, and a velvety texture. For other sky-high bottles, check the label for the words Tupungato or Uco Valley, the name of the high Andean area where the town is located.
photo by Dominio Del Plata/Pachy Reynoso
Argentine wine had long been a good value—until malbec fever pushed some prices past $100. Now, a new value-consciousness has taken hold. Tupungato's Rutini winery may be state-of-the-art, but much of it is dedicated to a label called Trumpeter, which sells for just over $10 a bottle. Trumpeter Merlot 2010 ($11) is finely balanced, with a wonderful rhubarb-mulberry nose. The 2010 malbec in Catena's value line, Alamos, sports a mulled-wine richness that manages to finish gracefully. It's a lot of wine for $13.
There's not only a new approach to the tried-and-true in Argentina; there's also experimentation with grapes better known elsewhere. In neighboring Chile, sauvignon blanc is a winner, so Argentine vintners are trying it, too. Zorzal's 2009 ($13) is herbal, figgy, and crisp. Even better are efforts with pinot grigio. Argento's 2010 pinot grigio ($12) is one of the world's most refreshing. As well, the old grapes are entering into new marriages. Zuccardi's Santa Julia Innovacion, a torrontes—pinot grigio mix ($10), is flexible for all kinds of foods. Some of the most exciting blends are based on bonarda: framboise-like Tikal Patriota 2009 (60 percent bonarda, 40 percent malbec) at $20; Susana Balbo's spicy, leathery 2008 Crios (50 percent bonarda, 50 percent syrah) at $15; and rich, minerally La Posta Cocina Tinto 2009 (20 percent bonarda, 20 percent syrah, 60 percent malbec), also $15. Finally, there's a playfulness to much of the winemaking in Argentina today. In Tupungato, for instance, the Italian producer Masi makes the ripasso-style Passo Doble ($14), taking lightly fermented malbec juice and passing it over dried Venetian corvina grapes. The garnet-hued wine has a roasted coffee nose and a sweet, gratifying beginning followed by balance and verve. Masi's spirit catches the current Argentine mood: With all this marvelous fruit to play with, why stick to tradition?