Recipes
Caipirinha
This three-ingredient recipe is the only one you'll ever need to make Brazil's quintessential cachaça cocktail.
Serves

serves 1

Cook

5 minutes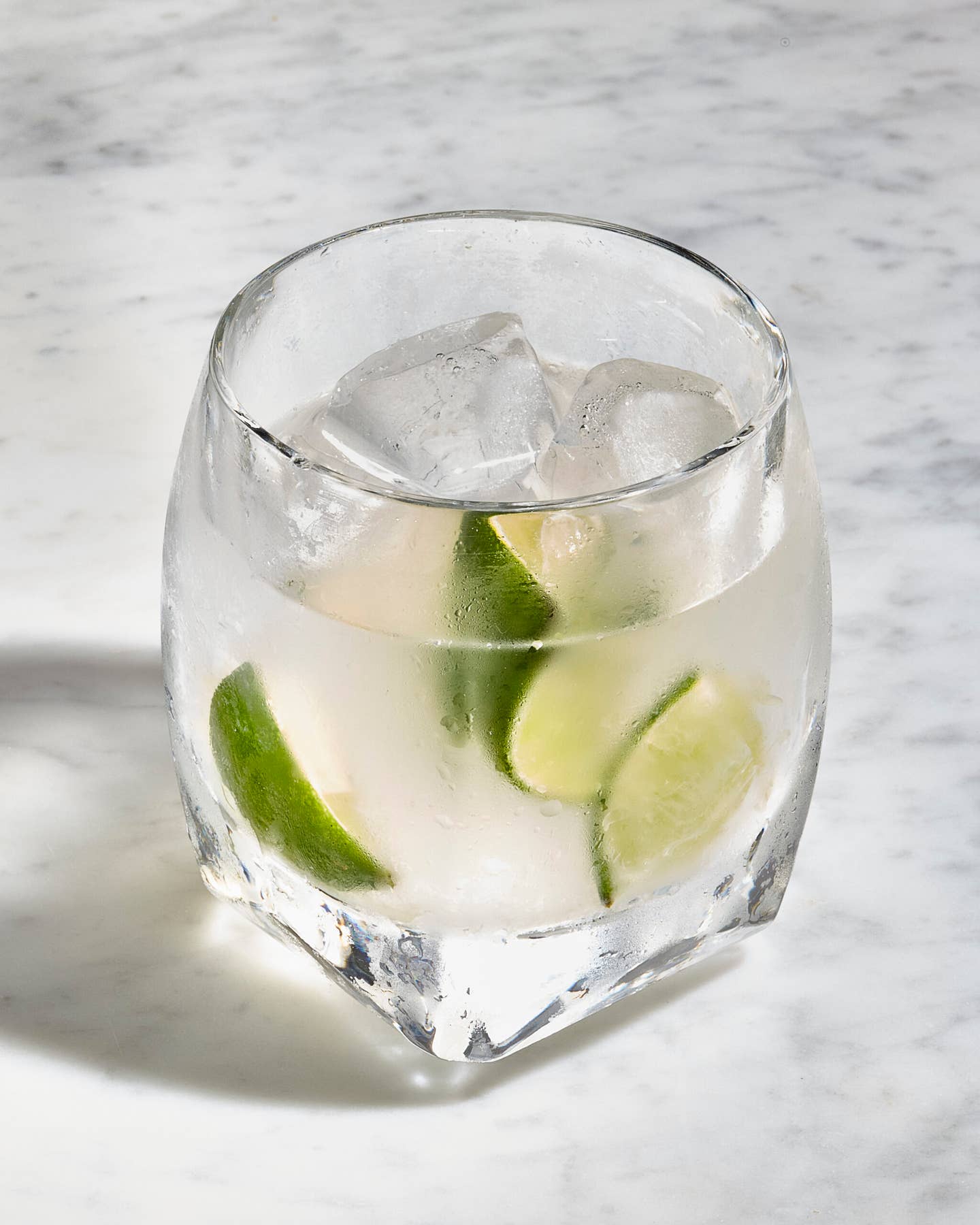 Synonymous with a day on the beach in Rio, the caipirinha is Brazil's national cocktail and it's ubiquitous anywhere cachaça is served. At turns funky, floral, bright, and elegant, the drink has been gaining in popularity over the past 20 years, as newer cachaça brands (among them Leblon and Avua) have emerged seeking to engage the cocktail-savvy crowd.
Cachaça is a fresh cane juice spirit made in over 500 distilleries in Brazil. The caipirinha is named after "caipras," rural folks from the countryside— a nod to the drink's rural origins, as it was originally consumed by cane cutters and other farm workers. A simple blend of cachaça, sugar, and lime, the basic caipirinha recipe is easy to execute at home as it was conceived before complicated cocktails and bars became a "thing." Mixing one requires no special tools or equipment, just a glass and a spoon. With that in mind, while some bartenders like to shake their caipirinhas, I don't recommend doing so. I find that shaking tends to bruise the lime skins and release their bitter oils into the drink. Meanwhile, the cocktail becomes over-diluted, which is of particular concern when using lower-ABV bottlings that can clock in at around 40% or less.
Much like the classic daiquiri, which is also based on a sugarcane spirit (rum), sugar, and lime, the caipirinha welcomes tinkering and variation through the use of additional flavors and fruits. If you're game for some experimentation, I suggest incorporating a tropical fruit such as passion fruit, mango, or coconut. (Juices, purées, or fresh muddled fruit all work well.) Blending in heavy cream or milk, piña-colada style, will result in another classic, the batida, which roughly translates to "crash." But if you prefer to keep it simple, that's great too; think of the Caiprihna as a sort of home-grown old fashioned; all that's required to enjoy one are the ingredients themselves—and the desire to enjoy a simple, refreshing drink.
Ingredients
3–4 lime wedges
2–3 tsp. sugar
2 oz. cachaça, such as Leblon or Avua Prata
Instructions
Step 1
In a rocks glass, use a muddler or the back of a spoon to gently mash the lime wedges into the sugar, focusing on the flesh of the fruit rather than the skins. Add the cachaça, fill the glass with ice, stir well to chill, and serve.