Drinks
These Cane Spirits Are Not Your Typical Rums
When it comes to rum and cane spirits, it can be hard to know where to start. Which is why we asked expert Shannon Mustipher to talk us through a lesser appreciated category: spirits distilled from fresh cane juice.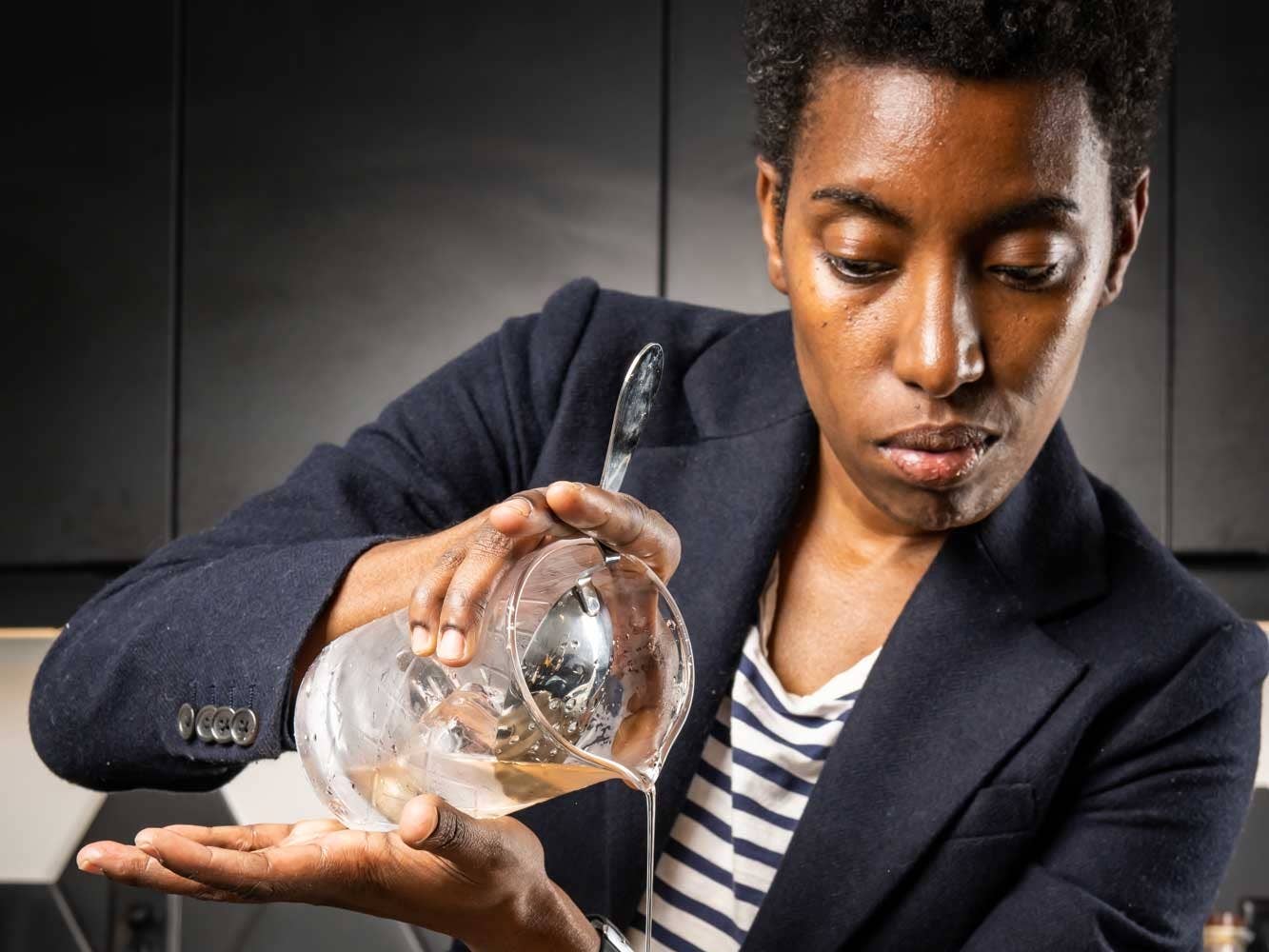 In 2014, I became the beverage director of what would become Glady's Caribbean, a rum bar that has since closed indefinitely due to the COVID-19 pandemic. It was so exciting at the time. I had a month to taste hundreds of rums to create a backbar of 50, on top of learning how to make tropical cocktails. After six years of working in hospitality in N.Y.C., this would be my first time running a bar. I learned quickly that rum is not only a sprawling, diverse category (made in 90-plus countries all over the world), but when handled the right way, it also makes for outrageously delicious cocktails. I went down a deep, deep rum rabbit hole—and didn't want to come out.
One category of the spirit, rhum agricole from Martinique, a Caribbean region of France, became a particular object of fascination (and eventually, fanaticism) for me. When I visited the island a few years after opening the bar, I managed to bring back 16 bottles and didn't bat an eyelash at the excess weight fee on my baggage. (No price is too high to pay for rums made from fresh-pressed cane juice.) I took it a little easier on a subsequent trip to Haiti, but you better believe that my home bar (which has an excess of 200 rums) is never without a bottle of Hatian Rhum Barbancourt.
I don't believe that you can ever fully know or appreciate the category without experiencing these spirits firsthand. Which is why I love turning on anyone I can get to listen, and sip, for a few minutes.
A Brief History of Rum Production
The earliest stories of spirits distilled from fresh cane juice—aguardiente, cachaça, clairin, and rum—began not in the Caribbean, but in Madeira, an autonomous region of Portugal and the birthplace of the modern sugar industry. (It is said that Infante D. Henrique brought the first sugarcane over to Madeira from Sicily.) When the Portuguese arrived in Brazil in the early 16th century, they discovered excellent conditions for sugar cultivation and installed massive plantations, thereby introducing the crop to the New World. The spirits distilled as a part of this enterprise eventually assumed their own identity as cachaça, which is made from sugarcane juice and is typically around 40 percent ABV.
By the 1740s, the sugar-refining industry had grown to a massive scale throughout the Caribbean. That industry's byproduct, molasses, also increased, and so the dark, sticky liquid became the base material of choice for island rum production. Until recently, spirits distilled from fresh cane juice were all but unknown to the average consumer. However, thanks to the work of intrepid importers keen to discover and market rums that are expressions of place, and adventurous bartenders seeking to incorporate bold and unexpected flavors into their repertoire, there is now a growing interest in older, less commercialized styles of production.
If you are new to spirits distilled from sugar cane, the first question that may come to mind is: Where to start? This will vary according to your own tastes: Agave lovers might resonate with the wild, somewhat raw flavors of unaged cane spirits, while fans of bourbon and brandy will be pleasantly surprised by the smoothness of an XO. Whichever you choose, may you do so in good cheer and in high spirits.
Here are a few bottles of note, ranging from those that have hardly deviated from their rustic origins to others crafted in such a way to win the attention of high-end whiskey and cognac fans.
Avuá's mission is to produce artisanal-grade cachaças, which can fetch prices as high as $500 per bottle. These are typically small productions (hence the hefty price tags); the selection covers a wide range of flavor profiles and stands in stark contrast to the industrial-grade distillates typically used in Brazil's national drink, the caipirinha. While cachaça does not appear in traditional Tiki cocktails, I make heavy use of it in mine. I love the way it brings a certain herbal je ne sais quoi to, say, a piña colada riff.
Flavor Notes: Sawgrass notes on the nose commingle with aromas that recall the "cat piss" beloved by fans of sauvignon blanc. If you are familiar with and enjoy this, then you're in for a treat. If not—don't worry—there's a reason why this is an affectionate description among wine geeks. The mouthfeel, silky on the first sip, gives way to ephemeral vegetal notes that fall on the savory end of the spectrum: oregano, marjoram, eucalyptus. White pepper punctuates a long, satisfying finish.
Produced in Oaxaca, the same region famous for mezcal, this is a pitch-perfect example of what distinguishes rums made from fresh cane juice from their molasses-based counterparts. Paranubes is not technically an "agricole'' rum (the name-protected designation is reserved for cane spirits from French Caribbean territories). This style is referred to by locals as aguardiente ("burning water," or "firewater"), a catch-all term for unaged spirits distilled from fruits—or in this case, sugar cane. The distillery uses methods that date back to the 18th century, including a long fermentation in wooden vats using natural, ambient yeast. The vats are emptied gradually, and topped off with fresh juice to replace what is removed (akin to techniques used in the maturation of brandies). Add to this pot distillation, which further concentrates the liquid's deep, "slow-cooked" flavor, and you get what rum lovers long for: a bold, expressive spirit that points back to the base material's place of origin.
Flavor Notes: A sip of Paranubes instantly takes me back to my first taste of mezcal fresh off the still. Bursting with bold, raw flavor, notes of overripe banana, punchy florals, and a hint of olive brine, the palate is sparkly and acidic, punctuated with hints of gravel and a dry, mineral finish.
Haiti is not only dazzlingly beautiful—some of its beaches are bounded by steep, dramatic cliff faces rivaling those in Capetown—it is also the only country that makes clairin, a style of rum that has seen scant alteration since the 18th century. Haiti is home to upwards of 600 operating distilleries called "guildives," small village operations which typically sell their spirits directly to locals who bring their own containers to fill. This version from the town of Pignon—which is bottled for export—is produced by Distillerie Le Rocher from uncultivated cane, fermented using naturally occurring yeast. Liquid from a previous distillation is added to the wash to enhance potency and flavor, a technique also used in traditional Jamaican rum production.
Flavor Notes: On the nose, Le Rocher offers aromas of fresh cut sawgrass mingled with tropical fruit. It has a creamy, mellow mouthfeel with burnt caramel notes balanced by crisp, bright baking spice. On the finish, vegetal notes make another appearance, bringing the experience full circle. This is my go-to when I'm in the market for a bold, funky daiquiri.
Rhum agricole, which is produced most notably on Martinique, Guadeloupe, and Marie-Galante, boasts some of the most elegant flavor profiles of all the rum categories. Distillers take cues from cognac production in both blending and maturation techniques, and there is a strong emphasis on the influence of terroir. While (unaged) rhum agricole blanc is popular for everyday drinking in the much beloved ti' punch—Martinique's national cocktail—older rhums, which are aged in American oak or cognac barrels, are also held in high esteem. Like cognac, rhum agricole may be marketed under the reserve designations XO ("extra-old") and VSOP ("very superior old and pale"), and some are even available as single-vintage bottlings, or cuvées. Much of this is made possible by the appellation d'origine contrôlée, or A.O.C., a designation of origin unique to France and its overseas departments. This particular bottle is aged in both bourbon barrels and, true to its DNA as a product of Martinique, French oak casks.
Flavor Notes: Delicate floral notes commingled with grass and straw greet you on the nose, alongside caramel and baking spices like ginger, cinnamon, and clove. Light-bodied and supple, the palate has a subtle chalky note and a long finish of subdued fruit and oak. This one I prefer to enjoy on its own—unless, of course, I have the time to pair it with a cigar (my favorite way to enjoy a good rum).