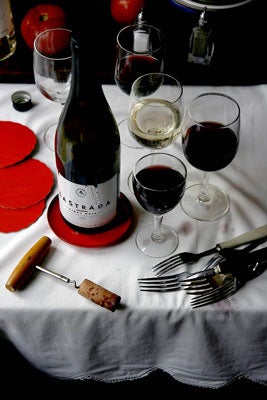 For a wine industry that didn't really take root until 1973 (because of issues ranging from prohibition movements to infelicitous growing conditions), New Zealand has become a powerful contender in the world's wine market, garnering international acclaim for its vibrant sauvignon blancs and intensely flavored, well-structured pinot noirs. Of the country's ten grape-growing regions, Marlborough, located at the top of South Island, is arguably one of the best (and the most prolific, yielding 44 percent of the country's total wine production). Here are five deliciously piquant bottles.
ALLAN SCOTT 2008 Sauvignon Blanc ($17)
Capturing the zesty fruitiness that often characterizes New Zealand sauvignon blancs—this one favors pineapple and passion fruit—Allan Scott's complex bottling boasts such depth that it seems aged beyond its vintage.
CLOUDY BAY 2006 Te Koko Sauvignon Blanc ($49)
Produced from grapes grown in six different vineyards spanning the Brancott Valley, Te Koko is pleasantly aromatic and balances flavors of ginger, herbs, and citrus.
DOG POINT 2008 Sauvignon Blanc ($19)
Extremely light and crisp, this citrusy sauvignon blanc is particularly full-bodied, supported by undertones of basil and lingering notes of minerality.
FROMM 2004 La Strada Pinot Noir ($28)
A blend from two Brancott Valley vineyards, this robust red combines earthy tones with a spicy berry flavor and has a silky, superior mouth-feel.
NAUTILUS 2008 Pinot Gris ($20)
A portion of it fermented in old French oak barrels, this Wairau Valley white offers a richly textured wine with hints of pear and spice and a lovely, dry finish.