Friday Cocktails: Spiced Pear Collins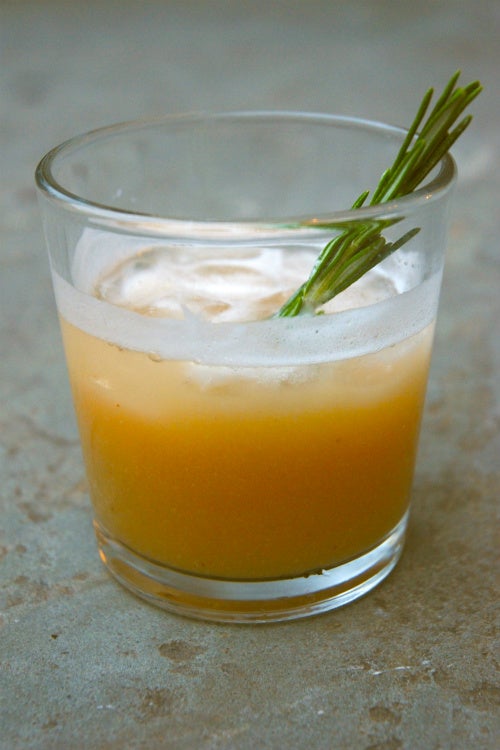 There's a morning each year, sometime in mid-autumn, when I walk outside and find myself raising my nose to the air and taking in a long, deep whiff. Something is different, and that something is magnificent. In those moments, I want nothing more than to capture the essence of the season—preferably in consumable form. So I couldn't have been more thrilled when a recent excursion to New York's Prima restaurant landed me face-to-face with one such opportunity. Immersive and revitalizing, they offered a drink (on their menu as The Last Cocktail) that's an autumnal, frothy mix of gin, prosecco, pear purée, rosemary-infused agave, lemon juice, and powdered cloves. I was soon gleefully reeling at my discovery: a perfectly balanced gin-based cocktail that was thoroughly seasonal, embodying fall's fleeting marriage of sharp brightness and soothing comfort.
I returned home later that night haunted by the combination of sweet-tart pear and fragrant rosemary, so elegantly wed with smooth, floral gin. I set out to decipher Prima's formula and produce my own rendition of the drink, hoping to draw out the same flavor profile without a full bar at my disposal. A rosemary- and clove-infused simple syrup adds pleasantly bitter, herbal notes to a fresh pear purée, shaken with lemon juice and gin until foamy and slightly creamy. Topped off with a small splash of sparkling wine or soda water, it has a crisp, woody sweetness, robust density, and sour, crackling effervescence that manages to evoke the season's invigorating chill, deeply hued leaves, and vibrant patches of warming sunlight.