Friday Cocktails: The Merchant's Wife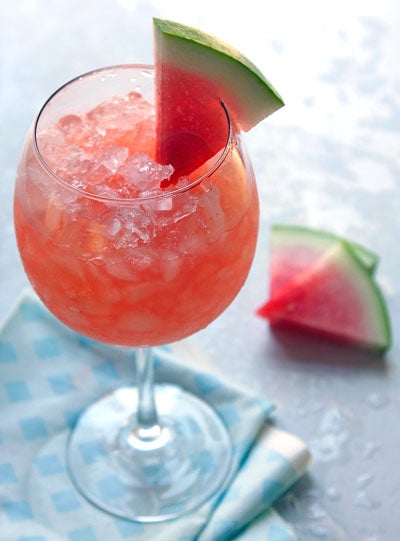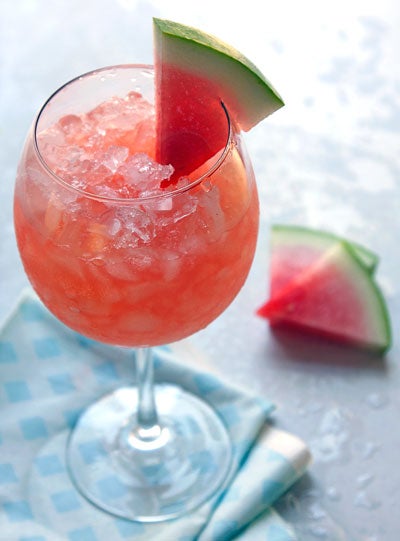 Central Park was about as close as I ever got to the countryside as a kid. It was there that I enjoyed my first picnics, warm summer afternoons full of delicious, messy food— chief among them watermelon, which captured my imagination with its gargantuan size, its marbled rind, and its vibrant, seed-studded, sticky-sweet fruit. Still, it's been some time since I've actually considered hauling home one of the huge, heavy things, let alone bringing one to a picnic. So it was with with as much surprise as delight that I found myself buying a watermelon for the first time in years in order to make a pitcher of The Merchant's Wife, a gin-based cocktail from Santa Monica chef Jeff Mahin that takes its vibrant pink hue and subtle flavor from the melon's sweet juice.
There's an aspect of refined decadence to this drink, named for a 1918 painting by Russian artist Boris Kustodiev that depicts a buxom woman sitting on a sun-soaked balcony to enjoy her lavish breakfast—which includes a watermelon as curvy and lush as she is. Mahin's recipe is just as sunny and rich: a bright mix of watermelon, Aperol, and lemon juice, topped with a splash of club soda for something well-balanced and pleasantly effervescent, with a final note that blooms on the tongue. The mild astringency of the Aperol tugs back at the melon's sweetness and reignites the gin, elevating the neon-hued cocktail to the heights of sophistication. Mahin calls the cocktail "summertime in a glass." For me, it evokes more than just the season; it's my mystical picnic glade of childhood, with an age-appropriate touch of booze.