Friday Cocktails: The Santorini Sunrise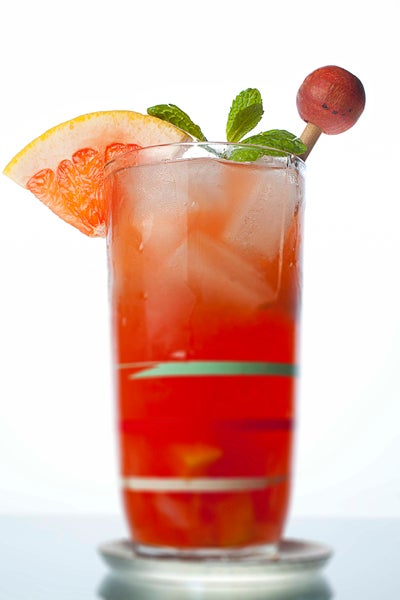 When you grow up watching as many movies as I did, you naturally become very attracted to travel. I had to see the London of James Bond and Mary Poppins, the Paris of Funny Face and Gigi — But even more than London and Paris, I was drawn to the lush, sexy, and sometimes mystery-veiled Greek islands.
Coincidentally, two of my favorite Greece-set movies were filmed in 1964: The Anthony Quinn tour-de-force Zorba the Greek and the lighter, certainly lesser-known Disney picture The Moon-Spinners, starring Hayley Mills. I picture the stars of the silver screen lounging between takes snacking on mezze, the salty sea breeze blowing through their hair all the while. Maybe they'd be sipping on a cocktail like this one: a Santorini Sunrise, a Mediterranean reimagining of the classic tequila drink that's served at New York's terrific Greek restaurant Molyvos, whose retro colors call to mind the luminous pink-orange flame of the Greek sun, as seen on screen in glorious Technicolor.