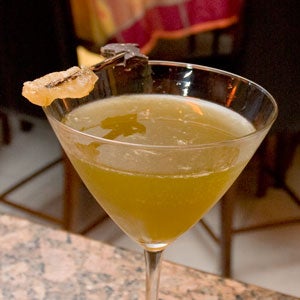 This delicious green tea infused libation was created by Jason Gronlund, executive chef for Tabasco.
Yield: makes 1 Cocktail
Ingredients
1 1⁄2 oz. Charbay green tea vodka
1 1⁄2 oz. Zenn green tea liquor
1 oz. ginger vodka
1 oz. soju or sake
1⁄2 oz. simple syrup
Juice of half lemon
1 dash habanero Tabasco sauce
Crystallized ginger for garnish
Instructions
Pour ingredients into a cocktail shaker that has been filled with ice. Shake vigorously. Strain into a chilled martini glass. Garnish with a sliver of crystallized ginger.