How to Enjoy the Origin Experience at Home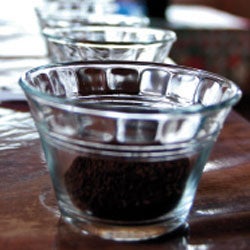 Dessert night? After an evening at a restaurant with friends, invite them back to your home for coffee and dessert. Have on hand six two-cup French presses, and brew coffees of the same origin. Have guests pair up and choose the coffee they will enjoy with their dessert. Hand out small descriptor cards of the coffee's characteristics (something your local specialty store can provide for you).
Le Nez du Cafe night? Utilize this program as a fun educational tool offering a way for you and your guests to understand the nuances and aromas of coffee better. (For more information on Le Nez du Cafe—the nose of coffee—see The Road to Perfection, or visit ww.scaa.org.