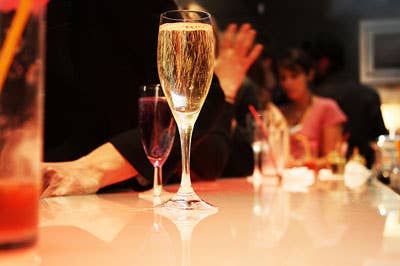 Drinks
Simple Steps for Spicing Up Sparkling Wine
It's easy to fancy up a glass of sparkling wine using fruit liqueurs, infused simple syrups, and more.
Ours is not the first generation to need to drink festively and inexpensively. During Prohibition, the champagne cocktail, which features a bitters-drenched sugar cube soaked in sparkling wine, was developed to mask the taste of the not-so-great hooch served in the 1920s and '30s. The concoction has enjoyed a recent resurgence among fans of classic cocktails, and why not? What's better than drinking cheap bubbly without it tasting cheap?
Long ago, the French mastered the art of drinking well without overspending, not just by producing their own wines but also by creating such charming cocktails as the kir royale, a cassis-spiked glass of bubbly. So, ask yourself this holiday season: do you want to drink inexpensively, with a little bit of sexiness and fanciness? The way I see it, you've got three ways to doctor up that bubbly with class.
There are some god-awful fruit liqueurs to be had on American shelves, dreck that tastes like something between cough syrup and melted Jolly Ranchers. But many liquor stores also carry real artisanal fruit liqueurs, like those made by the French producer Mathilde, all based on real fruit cooked in copper cognac stills. A 375-milliliter bottle costs on average between $15 and $18, depending on the flavor. I love the traditional cassis (black currant) version, but Mathilde makes a charming strawberry and peach, too.
The cocktail revolution, as led by places like the Violet Hour in Chicago and Death & Company in New York City, has led to a renaissance in artisanal bitters. Snag a bottle from the new generation of bitters makers, like the grapefruit bitters from Bittermens, rhubarb bitters from Fee Brothers, or orange bitters from Regan's, and you'll be able to combine both the old-world economy and charm of the original champagne cocktail formulation (a bottle of bitters will get you through several parties) with the bragging rights of a new-school, cutting-edge cocktail connoisseur.
Do-It-Yourself Drinking With Jean-Georges Vongerichten

Jean-Georges, he of such restaurants as, well, Jean Georges, Spice Market, and Mercer Kitchen, encouraged a novel idea behind his restaurants' bars, one that has earned him a good load of dollar bills. JGV was a pioneer in figuring out that herb-infused simple syrups work wonderfully with sparkling wines, and it's certainly a trick you can perform yourself at home (and it's a trick that lets restaurants charge $15 for cocktails that have "exotic" ingredients like thyme and lemongrass). All you need to do to make basic simple syrup is apply heat to two parts sugar to one part water. Once you have that going, you can toss whatever you fancy into the pan, cook for a bit, and then strain. In a matter of minutes, you'll have incredibly fancy and easy simple syrups.
Some ideas for combinations include:
• Fresh thyme and lemongrass stalks
• Fresh rosemary
• Orange zest and black peppercorns
• Fresh ginger and tangerine slices
• Mint and nectarine slices (mint syrup becomes very green)
• Shiso leaves
• A vanilla bean
• Bacon and maple syrup (cook the bacon first until very crispy)
Once you've strained your chef-driven simple syrup, add a shot of it to your favorite inexpensive bubbly.
And that's it! Plan this party right, and you can easily serve your guests some of the most memorable and delicious drinks of their year for very little money. Your guests will think you're chic, creative, and forward-looking—but you'll know what tricks you had up your sleeve.
Dara Moskowitz Grumdahl's new book, Drink This: Wine Made Simple (Ballantine, 2009), is available in bookstores. You can also follow her at deardara.com.