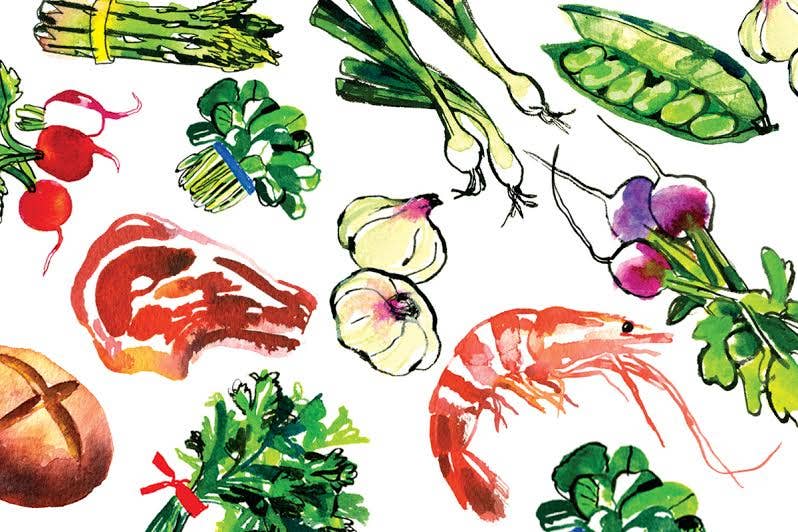 Drinks
When Fine French 'Wine' is Cider
On a warm October day, I walk with Eric Bordelet through the orchards of Chateau de Hauteville, his family's farm in the departement of Mayenne, about 150 miles southwest of Paris. The fragrance of windfall fruit blends with the aroma of freshly turned earth as we wade across a carpet of clover left by September rains.
When Bordelet, now 34, was growing up here, cider—a low-alcohol "wine" made from apples (and sometimes pears)—was the daily beverage; it had about as much cachet as milk. No wonder Bordelet's friends and family thought he was crazy when he left his job as sommelier at the trendsetting Arpege restaurant in Paris in 1991 to move back to the farm—to produce cider of his own.
To anyone who thinks cider is just apple juice, Bordelet's handcrafted ciders are a revelation. His current production of 20,000 bottles a year includes four types of apple cider and two of poire, a ciderlike pear beverage. His deluxe cuvee, Argelette (sold in the U.S. under the name Sydre Cremant de Viking), is orange-amber in color and lively on the palate, with fine bubbles and a flavor suggesting honey, apples, minerals, and citrus. Some restaurants now offer it with foie gras and pour Bordelet's poire as an aperitif, and both are presented alongside some of France's most celebrated wines at tastings organized by the Union des Gens de Metier—a group of artisanal vintners of which Bordelet, Pascal Delbeck (of Chateau Bel Air in St-Émilion), and Didier Dagueneau (Pouilly-Fume's enfant terrible) are charter members. "Cider is underestimated," says Bordelet, "because most of it is mass-produced or poorly made. Until the turn of the century, it was as respected in western France as the wines of Burgundy were in their region. Wine has continued to evolve but cider has stagnated, if not regressed. It will take ten years to restore its nobility."
Bordelet's orchards are at the southern rim of France's cider country—an immaculate landscape of narrow back roads walled in by hedgerows beyond which lie abruptly sloping pastures with timbered farmhouses—extending across northwestern France from the Pays d'Auge region of Normandy past Mont-St-Michel into Brittany. Cidermaking is thought to have been introduced here from Spain in the 13th century or earlier. In the 15th and 16th centuries—following the invention of the cider press and a succession of catastrophic wine vintages—vines in the region were replaced with orchards, and cider began appearing on the best local tables. Louis XIV even sometimes served it instead of champagne. By the 19th century, cider had become France's second most popular alcoholic beverage—after wine but ahead of beer.
The decline of cider in the 20th century has been variously blamed on the devastation of World War I, the flight of young farmers from the countryside, and the growing French thirst for soft drinks and beer. For whatever reasons, orchards throughout the cider zone were felled, and those that remained were mostly geared to mass production. Today, industrial cider monopolizes the market, accounting for about 80 percent of the region's yearly output of 1 million hectoliters (about 264,180,000 gallons).
Farm-made cider is beginning to enjoy a renaissance, however. European Economic Community quotas on milk production have had the unexpected side effect of turning some of the region's dairy farmers, who have long grown apples as a subsidiary crop, into cidriculteurs. New cellars have been built and sheds converted into tasting rooms. Farmhouse producers in five departements have formed cider associations and hired enologists as advisers. In early 1996, ciders from the Pays d'Auge and Brittany's Cornouaille region received appellation controlee status from the French government. Since cider measures only 3 to 5 percent alcohol (compared to 11 or 12 percent for most wine, it has also gotten a boost from France's strict drunk driving laws.
Michel Hubert, of Les Vergers de la Mori-niere in La Fresnaie-Fayel, personifies the new generation of cidriculteur. President of the Pays d'Auge cider producers' syndicate, he has about 35 hectares of orchards and another 114 of dairy pasture (there are about 2.47 acres to the hectare), and makes competent cider and poire and an impressive calvados. Leon Desfrieches and his sons, from St-Desir-de-Lisieux, win awards with their traditional-style Le Pere Jules ciders. The doux (sweet) version is best, but there is also a nice, very tart poire and a good if slightly vegetal pommeau—a blend of apple juice and calvados—as well as a rather aggressive straight calvados strongly flavored with oak.
François David is perhaps the most traditional of all cidermakers today. Nothing has changed at his farm in Blangy-le-Chateau since his grandfather created the "domaine" in 1871. David cultivates his orchards organically and harvests by hand. Then he stores the fruit for several months before pressing, macerating, and fermenting it in barrels. He doesn't filter, but bottles, labels, and corks his cider (anything from 10,000 to 20,000 bottles a year) by hand. David's off-dry Cuvee Reservee has a lovely spume of bubbles, ample honey and mineral flavors, and light petrol notes. It is more tender than Bordelet's cider and naturally sweeter—the authentic expression of a different terroir.
The 45-hectare Chateau de Hauteville sounds grander than it is. What remains of its former glory is the approach, a tree-lined allee leading to the ruins of an 18th-century castle. Geese waddle across dirt paths out to the former stables and carriage sheds that now serve as cidermaking cellars. Cows and sheep graze on the meadow separating two orchards. Eric Bordelet may well be the first farmhouse cider producer to have studied viticulture and enology before returning to the farm to make cider—and he approaches cider with a wine mentality. One of his orchards reveals this mentality at work.
There are two kinds of orchards in the cider zone—hautes tiges and basses tiges, meaning "high stems" and "low stems", respectively. Bordelet has two hectares of hautes tiges trees, courtesy of his parents, Roger and Claudine—a beautiful, anarchic orchard beneath whose thick canopy of leaves the air seems 10 degrees cooler than it does on the sun-drenched rise where Bordelet has planted eight hectares of saplings. At first glance, the young trees, espaliered in long, even rows, seem a standard basses tiges orchard. (Basses tiges trees bear more fruit than hautes tiges, more quickly, and allow machine harvesting.) Bordelet's young orchard, however, is unique: He has planted his trees as densely as if they were vines at a first-growth Bordeaux chateau, with 2,000 per hectare rather than the typical 600. "I'd rather have 100 kilos of fruit from four trees than from one," he explains. He also follows the principles of biodynamics (an ultrastrict form of organic agriculture), keeps yields low by not irrigating, and harvests entirely by hand.
Like many farmhouse cider producers today, Bordelet cultivates numerous varieties of apples—some two dozen, in his case. Variety insures crop regularity and makes a more balanced cider. In addition, like his winemaking counterparts, he mixes old and new techniques. Instead of macerating apples in the old-fashioned style (see box, page 103), for instance, Bordelet macerates fruit for his Argelette cider for three days or more in an air-conditioned room, protecting the fruit from oxidation with carbon dioxide. Then, he says, "I press the apples lightly, by hand, so that the skin stays whole. Most producers grind the apples into a puree, including the pips and stems. Their yields are much higher but the ciders are viscous and oily."
Bordelet maintains, however, that terroir, not technique, is what truly distinguishes his ciders from others. Argelette, he notes, is named after the metamorphosed schist that is characteristic of the soil in his orchards; it makes northern Mayenne's ciders darker and more structured than the suppler, sweeter ciders of the Pays d'Auge, he says. Still, he admits, his experience with wine is vital to his efforts. "To make the kind of cider I want," he says, "you must know how to taste. Industrial producers can make clean ciders with precise bubbles and the flavor of apples. But where's the depth, the length on the palate, the nuance? I'm looking for very fine bubbles, maximum aromatic complexity, distinctions between vintages, and enough stability for the cider to age for five to ten years. I'm not there yet. I'll have arrived when my ciders are offered at auction at Christie's."