Czech Beer Revolution
In this year's SAVEUR 100, we take stock of our favorite things: recipes, people, places. We consider every last one a new classic.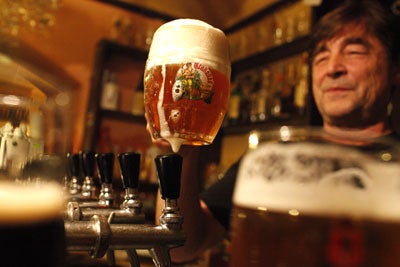 Home of the original pilsner, the Czech Republic has a deep and abiding relationship with beer, downing the world's highest volumes of the drink per capita. Even so, for years Czech beer culture was homogeneous: Deviations from pilsner-style pale lagers were rare, and pubs usually tapped just one large, industrial brand. Thankfully, that's all changing. In the past few years, more than 50 dynamic new breweries have sprouted up around the country, and their creative beers are stunning. In the north, Pivovar Kocour brewery produces a bittersweet IPA, called "Samuraj," with aromatic American hops; in the east the Černý Orel brewpub makes a lambic-style sour beer with cherries, using yeasts from Belgium. Czech brewers have started exploring their own history, too, producing traditional wheat beers, which had all but disappeared with the rise of pilsner. All of these new brews are finding a home in pubs, like Prague's Zlý Časy, which offers around 24 tap beers, all made by craft brewers. Paired with goulash and dumplings, there's no better way to taste the revolution.