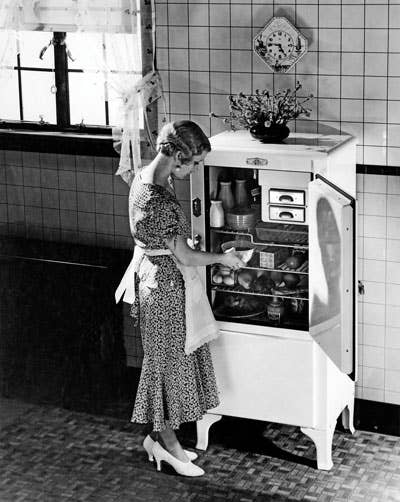 Techniques
How to Stock a Fridge from Scratch
Hurricane Sandy left thousands upon thousands of homes without power last week. Here's how SAVEUR editors would restock their own refrigerators from the ground up.
I live in Hoboken, New Jersey, which means that right now, I don't actually live there. My little town, just across the river from Manhattan, still hasn't recovered from the torrential rains and swelling waters of last week's Superstorm Sandy, so I'm camped out in the Upper West Side home of my very hospitable uncles. Once the power comes back on in my own apartment, I'll go home, and when I do, I'm going to be faced with a very empty (and at the moment, very room-temperature) refrigerator. I'm looking at this as a silver-lining situation: out go all the crusted-over mustards and containers of unidentifiable leftovers, in comes a shiny new beginning. I asked my fellow SAVEUR editors (most of whom luckily never lost power during the hurricane) how they'd go about re-stocking their own fridges. Here's their advice:
Todd Coleman, Executive Food Editor
A block of Parmesan, sriracha, a fruity hot sauce with mango, and yuzu koshu, which I put in vinaigrettes and on sandwiches. Hellmann's mayo, hard salami, raw carrots—I eat those all the time, which is something my mom did. Not the nub kind of carrot, but the big cello-bag carrots, which I don't even peel, I just scrub. A jar of cucumber pickles. Apple juice, chicken thighs, and broccoli for my daughter, Eve. For the freezer, some burritos—I always forget about them so they hang out in there forever, but I like the idea of having them. But even before all that, beer is the first thing to get: Dale's Pale Ale is what I drink at home.
Gabriella Gershenson, Senior Editor
If my fridge were empty, I'd fill it with my five essential items. Eggs: For emergency brownies or cookies, or to eat on their own. Milk: I typically take my coffee black, but milk suggests a measure of civility; also, cereal can be eaten for any meal. Bread: It's multipurpose: French toast for breakfast (see "milk" and "eggs"), or a lunch or dinner egg sandwich (see "egg" and "Comte"). Comte: This brilliant melting cheese can make a grilled sandwich or omelet feel utterly luxurious; plus, a little goes a long way. Butter: How am I supposed to make grilled cheese, omelets, toast, cookies, or brownies without it?
Karen Shimizu, Associate Editor
When my fridge is wiped out, I buy: eggs, butter, milk (essential for breakfast); sour cream, cheddar, a wedge of pecorino or Parmesan, fresh herbs (essential for most other things); and last, dark leafy greens, lemons, sweet potatoes, and a whole chicken to roast, which will in turn generate leftovers—chicken salad, chicken soup—that will repopulate the refrigerator.
Cory Baldwin, Assistant Web Editor
I recently moved into an apartment with roommates who don't cook at all beyond pouring a bowl of cereal, so the task of building up our fridge staples fell to me. The first things on my list: a spicy Dijon mustard for making salad dressings and spreading on sandwiches; a few cheeses, including a nice big hunk of Grana Padano for finishing pastas and salads, and a few semi-firm cheeses, like young gouda, mild fontina, and cheddar for snacking, melting, and making sandwiches; full fat yogurt or quark (a German fresh cheese that has a texture similar to thick yogurt or whipped creme fraiche) for breakfast and making creamy salad dressings; European-style cultured butter; Hellmann's mayonnaise and sriracha because I shamelessly love them, both alone and mixed together; the obvious eggs and milk (I splurge for the expensive glass-bottle milk because I only use it in coffee or for cooking); thick-cut slab bacon from my local butcher; and a few hardy vegetables that will last a while in my fridge even if I don't use them right away—kale, arugula, beets, carrots, celery, cauliflower, and** potatoes**. And a six-pack of Lagunitas beer—which lately I've been using for cooking as well as drinking.
Keith Pandolfi, Senior Editor
I would start with milk—Organic Valley 2 percent, for coffee, cereal, and the one glass I always drink, like an old man, before bedtime. Then I would add the following: a bag of almonds (I like them cold); one dark chocolate bar (ditto), a box of Breakstone's unsalted butter for cooking, a six pack of beer (Anchor Bock sounds good right now), a package of La Tur cheese, some good sliced ham, red grapes, a bunch of carrots, a bag of apples, fresh greens, a box of baking soda (to eliminate the odor of the rotting greens that I'll forget I bought), a cucumber (I always add a slice to my water), a tub of plain yogurt, a jar of preserves, a jar of Duke's mayonnaise, and, if I still have room, more beer.
Felicia Campbell, Assistant Editor
Little is more depressing than my refrigerator when it is bare save for a half-empty vodka bottle. My first step in ameliorating this unfortunate state of affairs is to get breakfast makings: eggs, Morningstar Farms vegetarian sausage patties (I swear, these are delicious), English muffins,
and half-and-half. An avocado rounds out my bounty, because the very sight of one makes me hungry, and whether eaten on a pita or with a spoon, it promises to be good snacking later.
Anna Stockwell, Assistant Web Editor
I like to keep a very well-stocked fridge. It makes me feel safe and happy to open the door and see endless possibilities for meal combinations. If I had to start over from scratch I'd get the things I know I always want to be there, the things I try to never run out if I can help it (I honestly start to get nervous if I look in my fridge and notice that there are only two eggs left in the wire basket I store them in or that the milk carton is running low.) For the fridge: whole milk, butter, a dozen eggs, Greek yogurt, Parmesan, cheddar, and a few other cheeses just to be sure, leafy greens like kale or arugula, apples, lemons and limes, some kind of cured meat such as prosciutto, salami, or bacon, corn tortillas, Dijon mustard, raspberry jam. For the freezer: Gluten-free bread, vanilla ice cream, chicken thighs, sausages, and a stash of frozen fruits and vegetables: mango, berries, corn, peas...with these basic things and a fully stocked dry pantry I can happily create many meals for myself.
Betsy Andrews, Deputy Editor
Beer. And then, my favorite strong flavors: capers, anchovies, a really stinky cheese. Everything I need to deep-fry quesadillas for my kid: Oaxacan cheese, good corn tortillas, tomatillos, jalapeños, cilantro, onions, limes. Jewish comfort food: everything bagels, whitefish salad, scallion cream cheese, tomatoes. A boatload of veggies: bok choy to stir fry and toss with cilantro and mint and scallions and simple sauce of rice wine vinegar, soy sauce, fish sauce, and piri piri hot sauce; eggplant for roasting and mashing with yogurt and fresh lemon and cumin and pimiento (smoky paprika); artichokes, Brussels sprouts, Bibb lettuce, and mushrooms of all kinds. Booze, of course: gin for the freezer, vermouth for the fridge, pinot noir for the wine fridge. Did I mention beer?
Nidhi Chaudhury, Editorial Assistant
When it comes to stocking an empty fridge, I'm all about breakfast foods. Milk to go with cereal, butter to go on bread, eggs for some wholesome heartiness and incongruously, cold beer to wash it all down. Oh, and tomatoes, because no Indian kitchen should be without them.