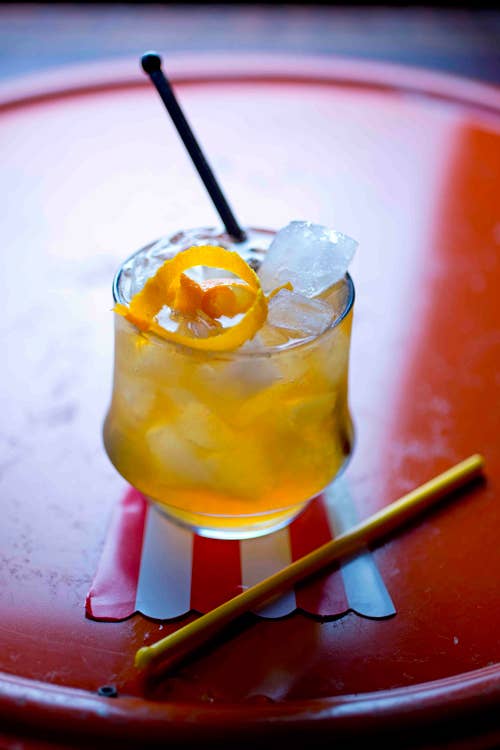 Drinks
Variations on the Whiskey Sour
Forget that cloyingly sweet, lip-puckering cocktail we all remember from our college days—when made from scratch and in the right proportions, the whiskey sour is one of our favorite crowd-pleasing libations. We've pulled together 15 variations on the drink, from the classic whiskey version made frothy with egg white to the Gold Rush, made with a spicy ginger liqueur, and the Baltimore Bang, which adds a fruity cognac—all perfectly sweet, sour, with just the right amount of bite.
Inspired by a cocktail at New York's Lafayette restaurant, this twist on a classic whiskey sour gets its fruity flavor and rosy color from muddled maraschino cherries and Lillet Rouge, the fruity red French apéritif wine enhanced with citrus and spices. Get the recipe for Alexis' Bordeaux Sour »
Forget the sours of your teenage years; this sophisticated update uses maple syrup to temper rye whiskey, with fresh lemon and orange juices to brighten things up. Maple Rye Sour »
Rosemary brings an herbal note to this lemony bourbon cocktail.
Black mission fig bitters from Brooklyn Hemispherical Bitters and a cinnamon simple syrup are at once spicy, smoky, and sweet when mixed with grapefruit juice and blended Scotch whiskey.
At the Grey Plume restaurant in Omaha, dry sherry adds a pretty, floral note to this twist on a whiskey sour.
This gorgeously floral and spicy drink is built like a classic New York sour, with a float of red wine on top and aquavit in place of whiskey.
Just a few ingredients add up to a complex whole in this Gilded Age cocktail, an ideal vehicle for a rich VSOP cognac.
Bittersweet with spicy, herbal undertones, the complex flavor of this rye cocktail celebrates the complexity of Oskar's character in Extremely Loud and Incredibly Close.
Created by 2012 SAVEUR Best Food Blog Awards Best Cocktail Blog winner, Jordan Catapano of This Girl Walks Into a Bar, the Citrus SAVEUR is a punch-like drink that pairs white corn whiskey with grapefruit juice, mint simple syrup, and homemade sweet and sour. Get the recipe for Citrus SAVEUR »
Made with Buffalo Trace bourbon and fresh lemon, the Melisse Whiskey Sour is delicate and floral, a perfect balance of tart and sweet, with subtle vanilla notes and a sumptuous, meringue-like pillow of foam on top. Get the recipe for Melisse Whiskey Sour »
Bartender Jeffrey Morgenthaler of Portland, Oregon's Clyde Common tavern gave us the recipe for this extravagant twist on a whiskey sour.
This tangy whiskey drink is just the right amount of sweet, sour, and straight-up booze.