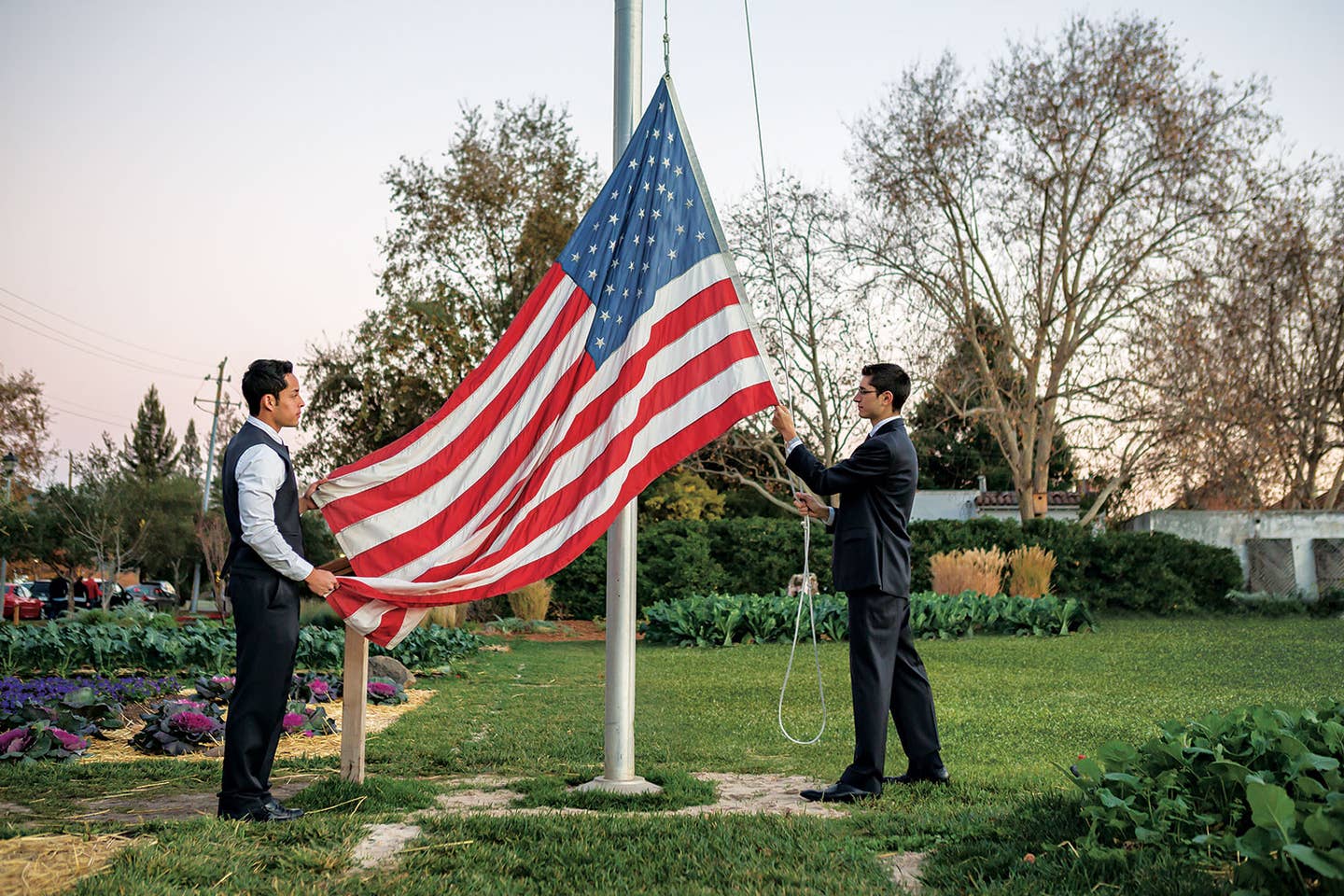 Culture
Holiday for the Heroes
At Napa Valley's Bouchon Bistro, it's a Thanksgiving tradition to honor our American veterans with an incomparable family meal
Nineteenth-century American scholar Henry Van Dyke said, "Gratitude is the inward feeling of kindness received. Thankfulness is the natural impulse to express that feeling. Thanksgiving is the following of that impulse." It is impossible for me to walk the streets of Yountville, California, without feeling grateful. When I moved here just over 20 years ago, I quickly found out it was a close-knit community, where people really cared for one another. For me, this was important because I had cooked in a lot of different places in Florida and Rhode Island, in Paris and New York and Los Angeles.
After years on the move, I was looking for the right spot in which to settle down, and Yountville felt like home. At Thanksgiving, I try to express my gratitude to the community that welcomed me in by hosting a special meal for returned U.S. soldiers who are living here.
Visitors to this Napa Valley town know it for its restaurants, resorts, and nearby wineries. What these vacationers may not know is that this area is also home to one of the largest populations of military veterans in the United States. With the residential facilities of the Veterans Home of California and the smaller Pathway Home located here, former servicemen account for more than a third of the town's 3,000 residents.
In the early years at The French Laundry, my first restaurant in Yountville, we prepared bountiful Thanksgiving meals for our guests. Each table received a gorgeously roasted turkey. We asked diners to bring their own carving sets, which I would use to carve the bird. These Rockwellian celebrations were as fulfilling for me as they were for our guests; they helped me to understand how our restaurant could offer a uniquely warm experience to the community.
Still, plenty of these diners were from out of town. Then The Pathway Home, a nonprofit program for veterans of the wars in Iraq and Afghanistan, asked me and my staff whether we would consider serving a Thanksgiving dinner for their residents, all of whom were living here temporarily in my small town.
Connecting with veterans in Yountville had been, up to that point, a purely personal experience for me. My father, Edward Keller, a former Marine Corps Captain who served in World War II and the Korean and Vietnam wars, spent his last years here with me. At the end of his life, an accident left him confined to a wheelchair. Nevertheless, to his last, he was a spirited man, with a gift for gab and a very healthy appetite. He used to hang out at Bouchon and The French Laundry, eating and sipping wine, welcoming our guests and holding court. He was here to watch our projects grow—the restaurants, the bakery, the culinary garden where we raise the American flag each day. We installed the flagpole one July 4th with Dad in mind. He taught my staff how to handle the flag, how to fold and store it. It was our shared way of honoring all veterans. Since my father's passing, the flag ceremony is also a daily reminder of the time I got to spend with him here. So when I had the opportunity to cook for servicemen like him, I jumped at the chance.
Our tradition of preparing Thanksgiving dinner for the veterans of The Pathway Home, first at Ad Hoc and later at Bouchon Bistro, began in 2008. These men are coping with post-traumatic stress or traumatic brain injury as a result of their overseas service; they've come to The Pathway Home to heal, and they're separated from their regular lives for the duration of the program. On Thanksgiving, we welcome their visiting families to the table, but we also hope to show these men that there's an extended family here for them in Yountville. Men like Evan Maier, 31, whose three tours of duty included the dangerous work of clearing IEDs (improvised explosive devices); Ryan Ellis, 27, a Marine Corps combat martial-arts instructor; and David McDermott, 47, who served in Bosnia and both Gulf wars, have given so much of themselves. We make this meal to thank them.
Our staff volunteers their time, the floor staff dressed in casual clothing to signal that they are, first and foremost, neighbors to our guests. We use only the finest ingredients we can source, and the chefs pour their hearts into the dinner's preparation. We serve a turkey that's juicy from bathing in brine, with skin that's golden and crackling from the oven. We stuff the thighs with a rich turkey mousse, poach and pan-roast them, and serve them alongside the rest of the bird in a gorgeous presentation. Our spiral ham is beautifully glazed with pan drippings, local honey, and fragrant cinnamon and clove. We lay out the fixings: crispy-topped haricots verts casserole, sweet potato purée blanketed in toasted marshmallows, gratinéed macaroni and cheese creamy from mornay sauce, apple-cranberry relish, whipped potatoes, piquant braised cabbage, stuffing loaded with herbs and sausage, and more. And we finish, of course, with holiday pies: pumpkin, pecan, and an apple pie enriched with almond cream and our housemade spiced apple-butter. Time and again, these men have told me that, with a plate of turkey and all the trimmings, a day at Bouchon feels both familiar and healing. It's great to hear that.
Long ago, I had to acknowledge that there is no such thing as perfect food—only the idea of it. Accepting that limitation helped me to understand the real purpose of striving toward perfection: to make people happy. Each year, we create new lasting memories for everyone involved, as veterans and their families fill our dining room. It's an experience I feel profoundly grateful for.
Correction: October 24, 2014 The print version of this story misstated the name of Bouchon Bakery's Aldana Iturri (pictured above, left); the spelling mistake has been corrected here.