Recipes
Ciabatta and Sausage Stuffing
Thomas Keller's rustic Thanksgiving side.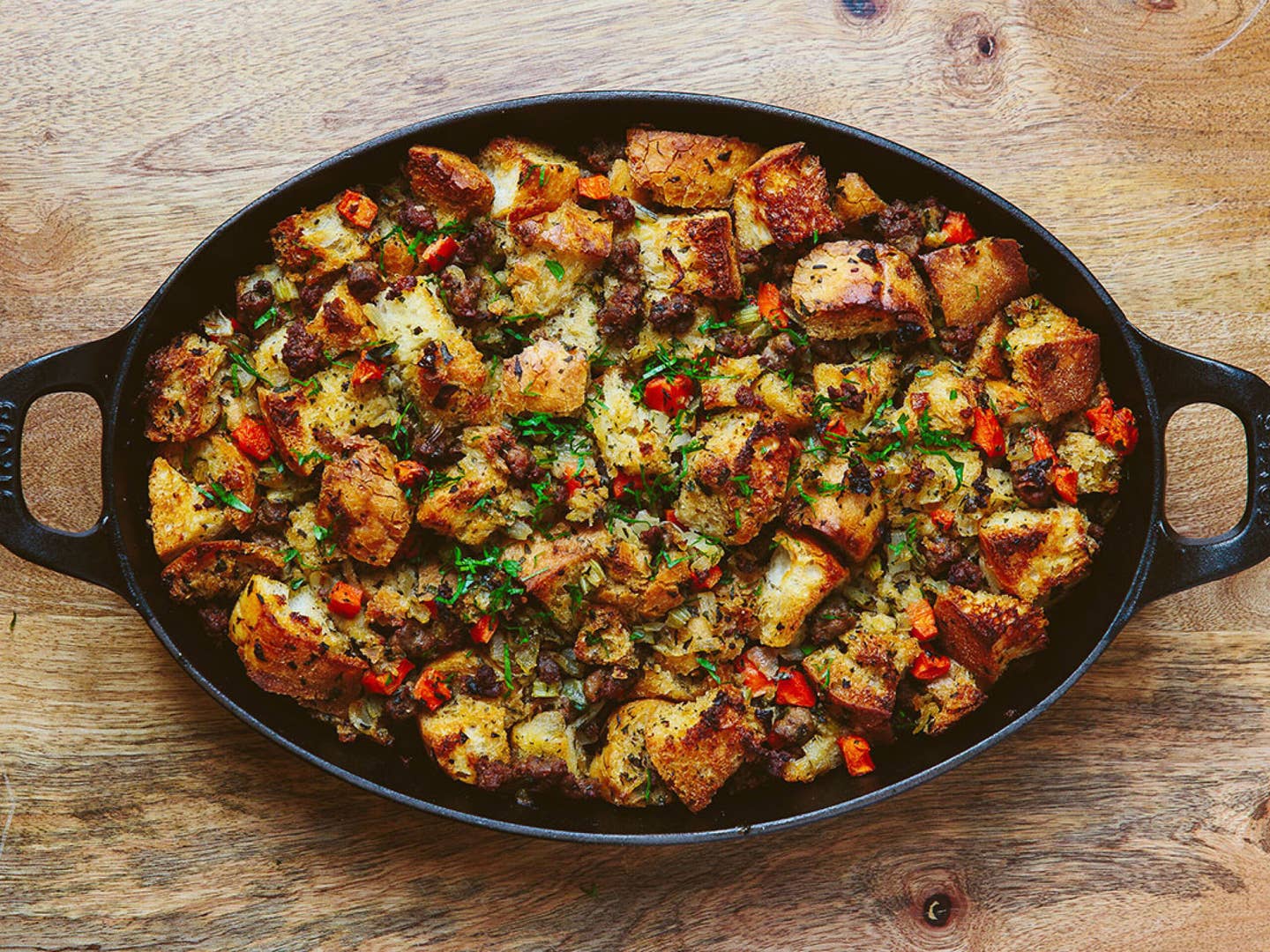 This rustic stuffing from Thomas Keller's Bouchon Bistro is made with crusty Italian bread and laced with fresh herbs, aromatics, and sausage. The staff at the restaurant makes it as part of their annual tradition of serving a Thanksgiving feast to Yountville-area veterans and their families. This recipe first appeared in our November 2014 issue and is a part of the story Holiday for the Heroes.
Ingredients
3 tbsp. unsalted butter
10 oz. bulk sweet or hot breakfast sausage, casing removed
1 carrot, cut into 1/4" dice
1 small yellow onion, cut into 1/4" dice
1 stalk celery, cut into 1/4" dice
2 cups turkey or chicken stock
1⁄3 cup olive oil
2 tbsp. roughly chopped parsley, plus more for garnish
2 tbsp. roughly chopped rosemary
2 tbsp. roughly chopped sage
1 (12-oz.) loaf ciabatta bread, cut into 1" pieces
Kosher salt and freshly ground black pepper, to taste
Instructions
Step 1
Heat oven to 375°. Melt 1 tbsp. butter in a 12" skillet over medium-high. Cook sausage, stirring and breaking up meat into medium pieces, until browned, 8–10 minutes. Transfer sausage to a large bowl; set aside. Add remaining butter to skillet; cook carrot, onion, and celery until soft, 5–7 minutes, and transfer to bowl with sausage. Add stock, oil, parsley, rosemary, sage, bread, salt, and pepper to bowl; toss to combine. Spread evenly in a 9" x 13" baking dish. Bake until golden brown and bread is slightly crisp on top, 30–35 minutes. Garnish with more parsley, if you like.