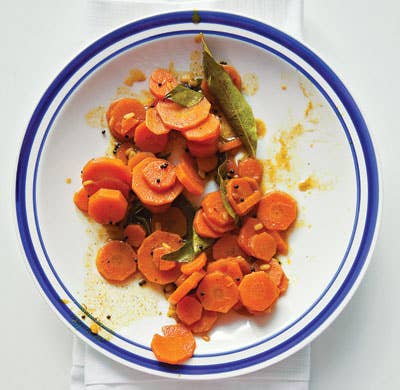 The Gin and Tonic is rumored to have been developed in India as a means for British colonists to get their daily doses of quinine (and gin). The bite of the tonic and lime paired with cooling cucumbers in the Cucmber Gin Cooler nicely offsets the spices in this menu. For wine, try serving a bottle of Jean-Maurice Raffault Chinon Rose, whose earth-meets-berry freshness compliments the rich chicken.

To save time on the day of your dinner party, make the chicken the day before and simply reheat before serving. Although delicious when hot, the Gujarati cabbage can also be made in advance and served cold as a salad on its own, or as a sort slaw with the rest of the meal.

For an extra cozy end to your evening, brew up a batch of this warming bourbon chai.

For more additional menu ideas, see our collection of authentic Indian recipes.