Chapati (Indian Flatbread)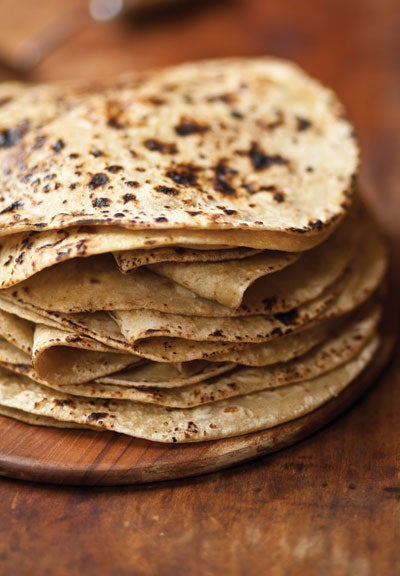 Thinner and chewier than paratha or naan, these earthy Indian flatbreads are made with whole durum wheat flour, called atta in Hindi. This recipe first appeared in the 2012 SAVEUR 100, with the article Chapatis
Chapati (Indian Flatbread)
Thinner and chewier than paratha or naan, these earthy Indian flatbreads are made with whole durum wheat flour.
Yield:
makes 10 Flatbreads
Ingredients
2 cups durum wheat flour (available from Anything Indian)
1 tbsp. kosher salt
1 tbsp. clarified butter or canola oil, plus more for brushing
Instructions
Stir together flour, salt, butter, and 1 cup water in a bowl until dough forms. Transfer to a work surface and knead until smooth, about 4 minutes. Cover with plastic wrap and let sit for 1 hour.
Divide dough into 10 equal pieces and shape each piece into a ball. Using a rolling pin, roll each ball into a 5″ round. Heat a 12″ cast-iron skillet over high heat. Add 1 dough round and cook, turning once, until cooked through and charred in spots, about 2 minutes. Transfer to a plate and brush on both sides with butter; repeat with remaining rounds. Serve hot.