Recipes
Fava Bean, Radish, and Pomegranate Fattoush
Brighten up any day with this springtime take on Levantine bread salad.
Serves

serves 2-4

Cook

30 minutes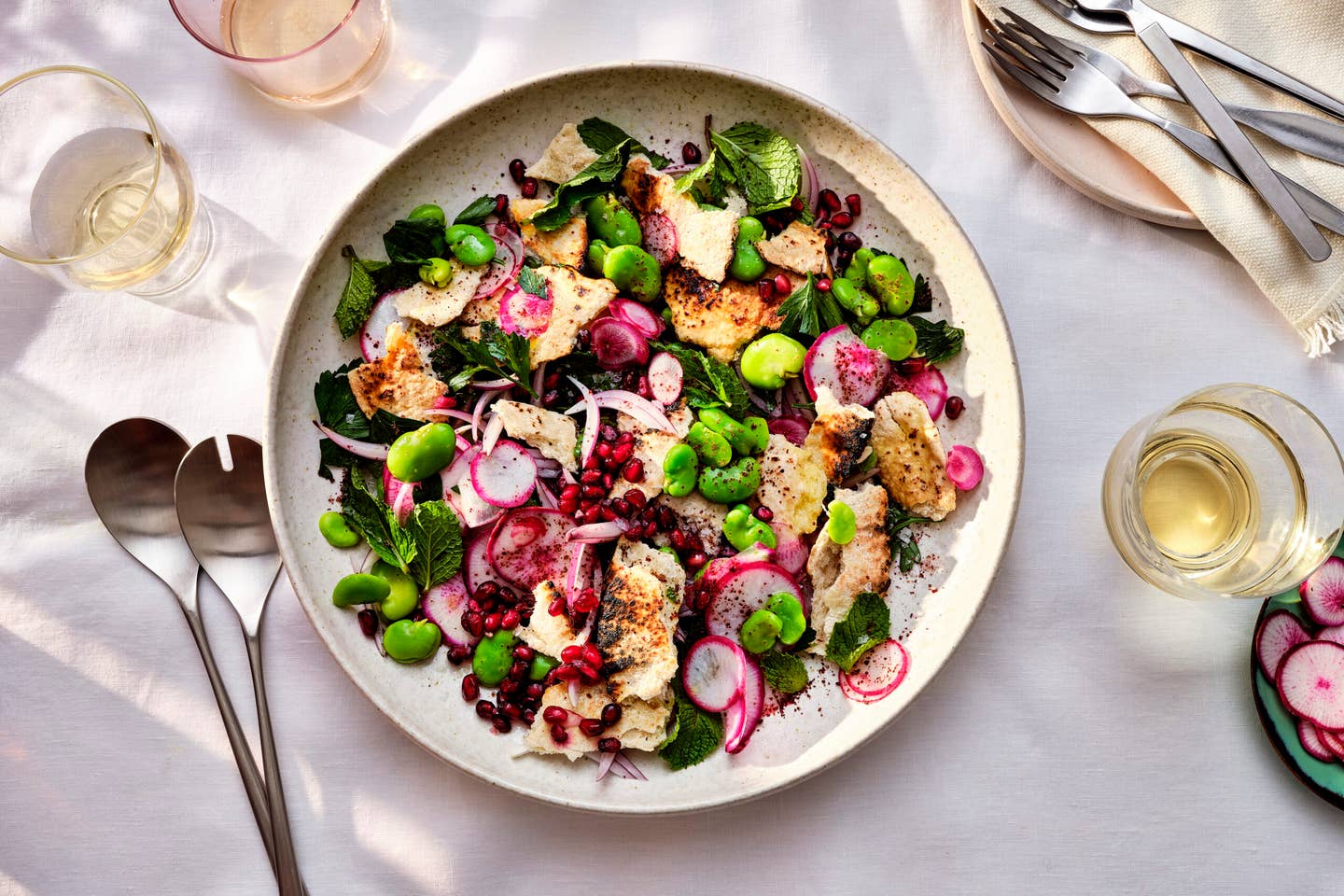 Fava beans add a creamy heft to this take on the Levantine bread salad from Australia-based chef Matt Wilkinson. This fattoush recipe first appeared with the 2015 SAVEUR 100 item Salad All Day.
Ingredients
One 8-in. pita bread
¼ cups olive oil, plus more for brushing
½ tsp. ground cumin
1 cup fresh or frozen fava beans
1 cup mint leaves, coarsely chopped
1 cup parsley leaves, coarsely chopped
¾ cups pomegranate seeds
4 red radishes, thinly sliced
1 small red onion, thinly sliced
Juice of 1 lemon
½ tsp. sumac
Flaky sea salt
Plain full-fat Greek yogurt, for serving (optional)
Instructions
Step 1
Heat the oven to 375°F. Place the bread on a parchment-lined baking sheet and brush lightly with water; bake until slightly crisp, about 10 minutes. Brush the toasted bread with olive oil, sprinkle with cumin and set aside until cool enough to handle. Tear the pita into 1-inch pieces.
Step 2
Bring a small pot of water to a boil. Add the beans and cook for 2 minutes; drain the favas, discarding the cooking liquid, then immediately transfer to a bowl of ice water until cold. Drain again, and pop the beans from their skins; coarsely chop the beans and transfer them to a medium bowl. Stir in the remaining oil, the mint, parsley, pomegranate seeds, radishes, onion, and lemon juice. Add the reserved bread, sumac, and salt to taste; toss to combine. Serve at room temperature with yogurt on the side if desired.