Ful Medames (Stewed Fava Beans)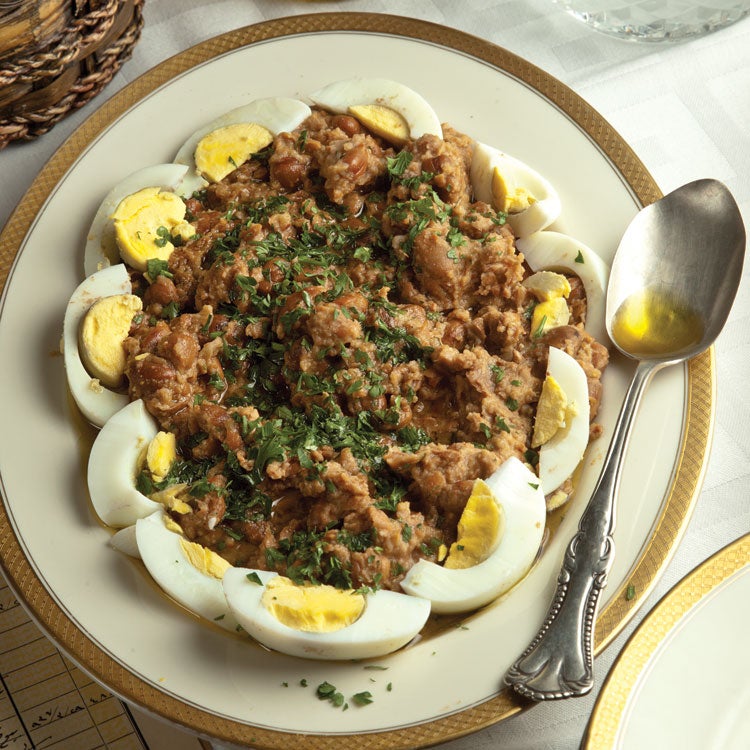 Best known as Egypt's national dish, ful medames is a hearty stew of warmed fava beans stirred with olive oil, lemon juice, and garlic, usually eaten for breakfast. But ful, as it's known casually, is a staple all over the Middle East. As such, there are many subtle variations, and the version I am fondest of is my grandmother Ruth's, whose parents hailed from Aleppo, Syria. She claims that her special touch is a pinch of cayenne pepper. I think it's something far less tangible. —Lucy-Ruth Hathaway
Ful Medames (Stewed Fava Beans)
Best known as Egypt's national dish, <em>ful medames</em> is a hearty stew of warmed fava beans stirred with olive oil, lemon juice, and garlic, usually eaten for breakfast.
Ingredients
2 (15-oz.) cans fava beans, drained and rinsed
1⁄4 cup fresh lemon juice
1⁄4 cup olive oil, plus more to garnish
2 tsp. ground cumin
1⁄4 tsp. cayenne
4 cloves garlic, peeled and mashed
Kosher salt and freshly ground black pepper, to taste
2 hard-boiled eggs, cut into 6 wedges each
2 tbsp. finely chopped parsley
Instructions
Place beans in a 2-qt. saucepan and cover with water by 1″. Place over medium heat, and bring to a boil; cook until beans are tender, about 8 minutes.
Drain beans, and transfer to a bowl; add juice, oil, cumin, cayenne, garlic, and salt and pepper. Stir until beans are lightly broken up. Transfer to a serving platter, and surround with egg wedges; drizzle with more oil, and sprinkle with parsley before serving.
See all 150 classic recipes featured in our 150th issue »