Recipes
Gnocchi with Cream-and-Red Wine Sauce (Gnocchi al Sagrantino)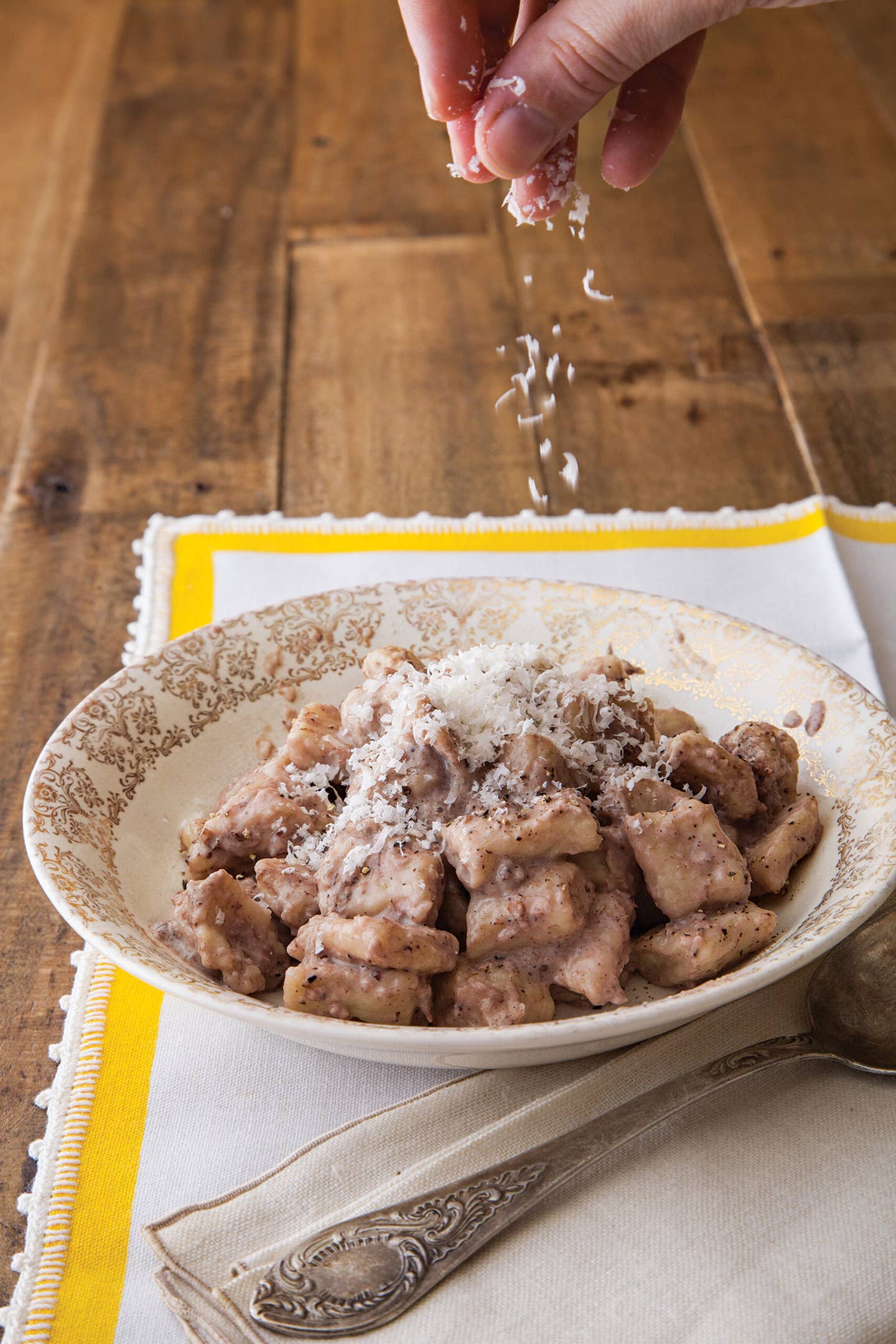 A reduction of sagrantino wine, along with guanciale—cured pork jowl—flavors the sauce for this creamy gnocchi dish, a classic of the Montefalco region of Umbria. This version of the recipe comes from Giorgio Barchiesi, a chef at Antonelli winery. It first appeared in our November 2014 issue with the story Taste of Umbria.
Ingredients
1 lb. russet potatoes
2 tsp. kosher salt, plus more
1 1⁄4 cups flour, plus more
2 eggs, lightly beaten
1 tbsp. olive oil
1 tbsp. unsalted butter
2 oz. guanciale or pancetta, minced
1 small yellow onion, thinly sliced
1 1⁄2 cups robust red wine, such as sagrantino
1 1⁄4 cups heavy cream
Freshly ground black pepper, to taste
1⁄2 cup grated parmesan
Instructions
Step 1
Make the gnocchi (see "How We Roll"): Boil potatoes in a 6-qt. saucepan of salted water. Reduce heat to medium-low; cook until tender, 25–30 minutes. Drain, peel, and pass potatoes through a potato ricer into a bowl. Stir in 2 tsp. salt, the flour, and eggs until dough forms. Transfer dough to a work surface; knead until smooth, 1–2 minutes. Divide dough into 6 balls. Working with one ball at a time, roll dough into a 20" rope about ¾" thick. Cut crosswise into 1" pieces and transfer to a baking sheet; toss with some flour to prevent sticking. Chill until ready to use.
Step 2
Heat oil and butter in a 12" skillet over medium. Cook guanciale until fat renders, 4–6 minutes. Add onion; cook until golden, 8–10 minutes. Add wine; cook until evaporated, 20–22 minutes. Add cream, salt, and pepper; boil. Let sauce cool slightly, then transfer to a blender and purée until smooth; return sauce to skillet and keep warm.
Step 3
Bring a large pot of salted water to a boil and, working in batches, cook gnocchi until tender, 4–5 minutes. Using a slotted spoon, transfer gnocchi to skillet with sauce. Stir in ⅓ cup parmesan, salt, and pepper. Garnish with remaining parmesan.