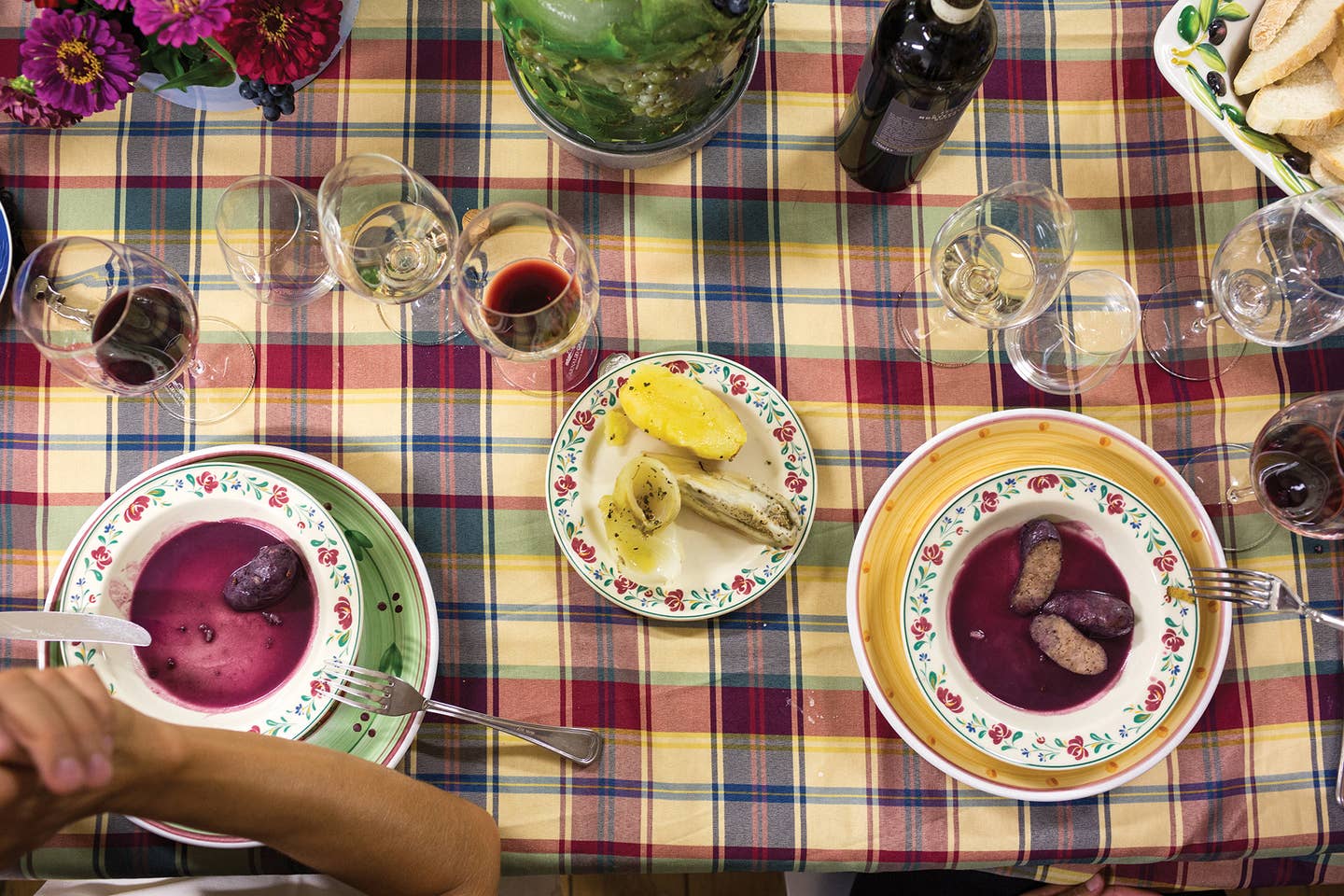 Travel
Taste of Umbria
In the medieval hill town of Montefalco, home to the grape sagrantino, the spirit of generosity is as robust as the wine
I should have known better. I was standing amid vine rows heavy with fruit on a September evening a few weeks before the sagrantino harvest at Arnaldo Caprai winery in Umbria. I had arrived after a flight to Rome and a 2-hour drive north to the hilltop town of Montefalco. Now I craved dinner. So when Marco Caprai, the winery's rugged-faced owner, suggested that we "go into town for a drink first," I was disappointed. Inside the winery's kitchen, Salvatore Denaro, Caprai's chef, was cooking for us, tucking just-stuffed pork sausages into a bed of simmering sagrantino grapes and moving a mountain of diced pancetta to a stockpot for ragù. I wanted to watch him work. What sort of lousy timing was this for a side trip to a cocktail bar?
Twenty minutes later, at Macelleria-Norcineria Tagliavento, in neighboring Bevagna, my fears of going hungry were allayed. In butcher Rosita Cariani's shop, beneath dangling tail-on prosciutti, we stood at a counter and devoured salumi: porchetta, heady with herbs; salty-sweet spalla from the pig's shoulder; buttery guanciale; prosciutto, smooth as silk; and chewy lonza, dry-cured tenderloin. To go with it? Caprai's white wine Grecante, made from grechetto, an Umbrian varietal. Brisk and vivacious with a peach-blossom fragrance, it cut through the fat and met the pork's sweetness straight on. Bingo. I never should have doubted the gastronomic impulses of an Umbrian.
Located in the undulating cuore verde d'Italia—"green heart of Italy"—Umbria was a sleepy agricultural corner of the Papal States for 500 years, and the culture remains more retiring than that of showy Tuscany to its west. But though they are humble, Umbrians do have treasures to proffer. "We've always been a poor region," said prominent vintner Chiara Lungarotti when I visited her at her family's Giorgio Lungarotti winery. "But we share what we have." Wine grapes are among the riches here: grechetto; the luxurious white grape trebbiano spoletino, which grows in some vineyards here on century-old vines; and Italy's ubiquitous sangiovese. Yet none of these is more potent or iconic than Montefalco's sagrantino.
It's a tiny grape with a huge personality. Its thick skin is loaded with the polyphenols that yield the world's most tannic red wine, and one of its most flavorful. Acidity, sugar, alcohol, and loads of fruit—sagrantino has them all, along with a mouth-drying bite like that of black tea. And with possible references stretching back to Pliny the Elder, it may have a pedigree as deep as its character. In the town's San Francesco Church, a 1451 fresco shows Saint Francis with what's said to be a jug of it.
The wine that Saint Francis used for the sacraments, and that lay people drank at Easter with lamb, was sweet. Sagrantino passito, as the original sweet version of the wine is called, is made by air-drying harvested grapes to concentrate their sugars. But those sugars are balanced by copious tannins and acid, which is why the wine can be sipped alongside roast meats as well as sweets like the cornflake-coated biscotti ai cereali that are popular in Montefalco.
In the 1970s, Marco Caprai's father, Arnaldo, was among those who created sagrantino's dry expression. Through relentless experimentation, the younger Caprai managed to make the dry wine sing. Today, protected under DOCG (Denominazione di Origine Controllata e Garantita) status, it's a serious wine, its shoulders broadened by an obligatory 37 months of aging, at least 12 of those in oak. But despite that resting period, its natural tannins keep the wine so clenched up that it can take years in the bottle to relax.
As a fan of lighter wines, I had come to Montefalco to see if I could love this beast. It was a task I may have found harder had the winemakers not done as Umbrians do when they want to make friends: They fed me. Happily, as it turns out, lumbering sagrantino plays nicely with food.
After dinner at Caprai, we set off for our third meal of the night, at the inn Villa Roncalli, where chef Maria Luisa Scolastra threw rosemary, fennel, and juniper berries into a pan of searing pork loin and served it with Caprai's Collepiano. The sagrantino was at first as tight as a fine Italian suit, but its spice and leather snuck up on me, its earthy richness lingering. A muscular wine, it was made for dark forest flavors; had there been boar on hand, it could have easily replaced the pork.
"Cinghiale—wild boar—is typical with sagrantino. It's very dark meat," Iacopo Pambuffetti, young and wild-haired, told me the following evening when he and his cousin Liù hosted me for dinner at his family's winery, called Scacciadiavoli, "cast out the devil," a reference to a local exorcist. From the kitchen came other meat dishes: fresh, chewy tagliatelle draped in a goose ragù; veal medallions smothered in wild mushrooms and a black truffle sauce. With the dishes, Liù opened a few bottles that showed how sagrantino, though shrouded in tannins and dark fruit, could reveal different faces. I would have expected the older wine to be more mellow, but Liù's 2007 sagrantino was softer and richer than the angular 2006. Still, with their brooding berry and balsamic flavors, both seemed fit for a winery with the devil in its name.
It's the devil in the details, of course, that makes things interesting. The area's blended red, montefalco rosso, is made primarily with sangiovese, but the wine gains its Umbrian gravitas from a dose of sagrantino. At Terre de la Custodia winery, I sampled one of these blends over dinner with the strapping, blond Giampaolo Farchioni, scion of a family that settled here from Austria in the 15th century. To a table set against sweeping estate views, Farchioni's chef, Massimo Infarinati, sent out plate after delicious plate. There was a sweet pecorino flan with a bright, chunky tomato sauce. Then came tagliatelle dressed in a veal ragù aromatic with a dose of the winery's montefalco rosso. I tasted that delectable pasta between sips of the wine with which it was made. The rosso's currantlike sangiovese flavor gave in to the sagrantino's mocha finish. It cleansed my palate with tart fruit and then eased it into the next bite with depth, proving that massive sagrantino could be a team player.
Sagrantino's magnanimity bears out in the kitchen as well. At the homey Enoteca l'Alchimista in Montefalco's main square, with a radicchio, pear, and pecorino salad as an intermezzo, I demolished a slab of cheese that had been aged in the wine, wrapped in radicchio and pancetta, and baked until oozing. The wine brought structure to the fatty preparation, bordering it in blackberries.
On my last evening in Montefalco, at Antonelli, a fourth-generation vineyard fringed in sunflower fields, I had the meal that truly made me fall for sagrantino. In the winery's café, Giorgio Barchiesi, a chef whose good humor is as ample as his girth, cooked massive amounts of a local signature, gnocchi al sagrantino. Pillowy potato dumplings as big as apricots were simmered in a milky-purple sagrantino cream sauce that was lavished with butter, parmesan, guanciale, and silky caramelized onions. It was a wildly indulgent dish, but the sagrantino's tannins kept the richness at bay. Like a strong man bearing a troupe of acrobats, the wine held the other ingredients in perfect balance.
I thought then about something I'd been told often in this town. Winemaker Daniela Adanti, co-owner of Cantine Adanti winery, had put it best. "Sagrantino is very Umbrian," she said. "It is a closed wine, but give it time to open, to be known, and you'll appreciate it. It's the same as the people of Umbria. They don't seem open, but then, when you know them, they are very generous." I took a sip of the wine, blossoming now in its glass: berry, black pepper, cocoa, and oak. Beside the rich, tinted gnocchi, it was a generous pleasure, indeed.