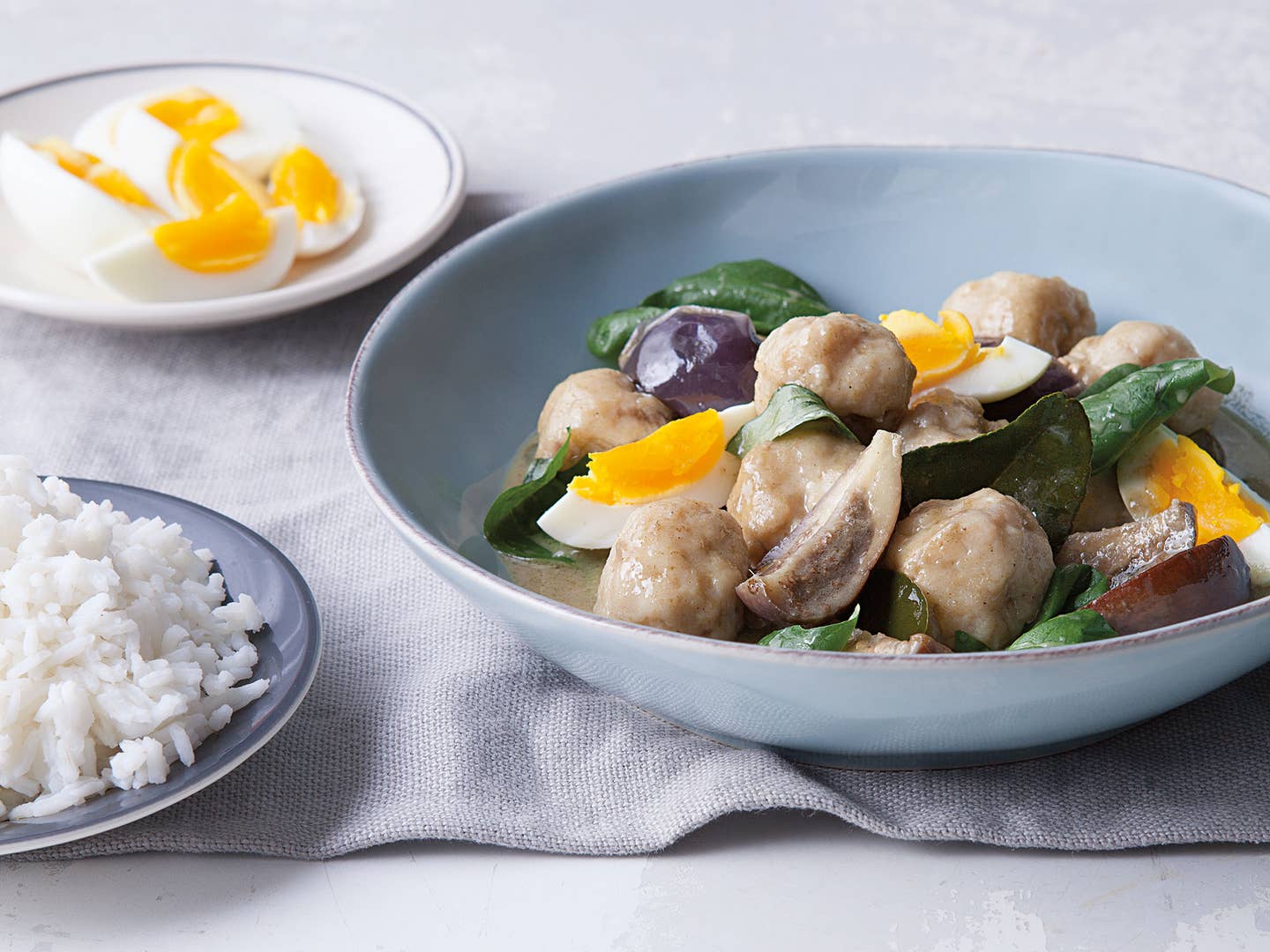 Recipes
Green Curry with Fish and Eggplant (Kaeng Khiaw Waan)
Every region of Thailand has its version of kaeng khiaw, or green curry—this central-Thailand version is from Andy Ricker, chef and owner of Pok Pok restaurant. Thai-style dumplings add a nice, bouncy texture to the dish—make your own, or buy fresh or frozen fish balls from an Asian grocery. This recipe first appeared in our October 2013 issue with Ricker's article The Star of Siam.
FOR THE PASTE:
2 tsp. coriander seeds
1 tsp. yellow mustard seeds
½ tsp. cumin seeds
8 whole black peppercorns
2 tbsp. roughly chopped cilantro root or stems
2 tsp. shrimp paste, preferably Trachang brand
1½ tsp. kosher salt
1 tsp. finely chopped Kaffir lime leaf
1 tsp. grated lime zest, preferably Kaffir
15 fresh green Thai chiles, stemmed and roughly chopped
8 cloves garlic, roughly chopped
6 small Asian shallots or 2 medium regular shallots, thinly sliced
2 stalks lemongrass, trimmed and thinly sliced
1 3"-piece galangal, peeled and thinly sliced
¼ cup coconut milk, preferably UHT from a carton
FOR THE FISH BALLS:
½ lb. skinless, boneless tilapia filets, cut into ½" pieces
¾ tsp. kosher salt, plus more to taste
4 tsp. cornstarch
½ tsp. sugar
⅛ tsp. ground white pepper
FOR THE CURRY:
½ cup coconut cream, preferably UHT from a carton
1½ cups coconut milk, preferably UHT from a carton
4 small Thai eggplants, quartered, or 1 small Japanese eggplant, cut into 1½" pieces
1 tbsp. fish sauce, preferably Tiparos brand
1 tbsp. grated palm sugar
12 fresh or frozen Kaffir lime leaves, roughly torn
3–4 fresh green Thai chiles, stemmed and halved
½ cup packed basil leaves, preferably Thai
2 eggs, hard-boiled, peeled, and quartered
Cooked jasmine rice, for serving
1. Make the paste: Heat coriander seeds, mustard seeds, cumin seeds, and peppercorns in a 12" cast-iron skillet until seeds begin to pop, 1–2 minutes; let cool slightly. Place in a spice grinder and pulse until finely ground; set aside.
2. Place cilantro root, shrimp paste, salt, lime leaf, lime zest, chiles, garlic, shallots, lemongrass, and galangal in a small food processor; pulse until roughly chopped. Add reserved spice mixture and the coconut milk; purée until smooth. Set ½ cup aside; refrigerate remaining paste for future use up to 2 weeks.
3. Make the fish balls: Pulse fish and ¾ tsp. salt in a food processor. With the motor running, slowly add 2 tbsp. water; process into a smooth paste. Add cornstarch, sugar, and white pepper; pulse until combined. Transfer paste to a bowl; refrigerate for 30 minutes.
4. Bring a large pot of salted water to a boil. Using wet hands, roll fish paste into 16 balls about 1" thick. Cook, partially covered, until tender, 6–7 minutes. Using a slotted spoon, transfer balls to a plate; let cool completely.
5. Make the curry: Heat coconut cream in a 6-qt. saucepan or 13" wok over medium heat; cook, stirring occasionally, until oil is separated, 8–10 minutes. Add the ½ cup curry paste; cook, stirring, until fragrant and slightly browned, about 4 minutes. Add coconut milk and 1 cup water; bring to a boil. Add fish balls and eggplant. Reduce heat to medium-low; cook, stirring occasionally, until eggplant is tender, about 20 minutes. Stir in fish sauce, palm sugar, lime leaves, and chiles. Remove from heat and stir in basil. Serve with eggs and jasmine rice on the side.