Recipes
Monte Cristo Sandwich
Midway between the croque monsieur and the McGriddle lives this deep-fried double decker.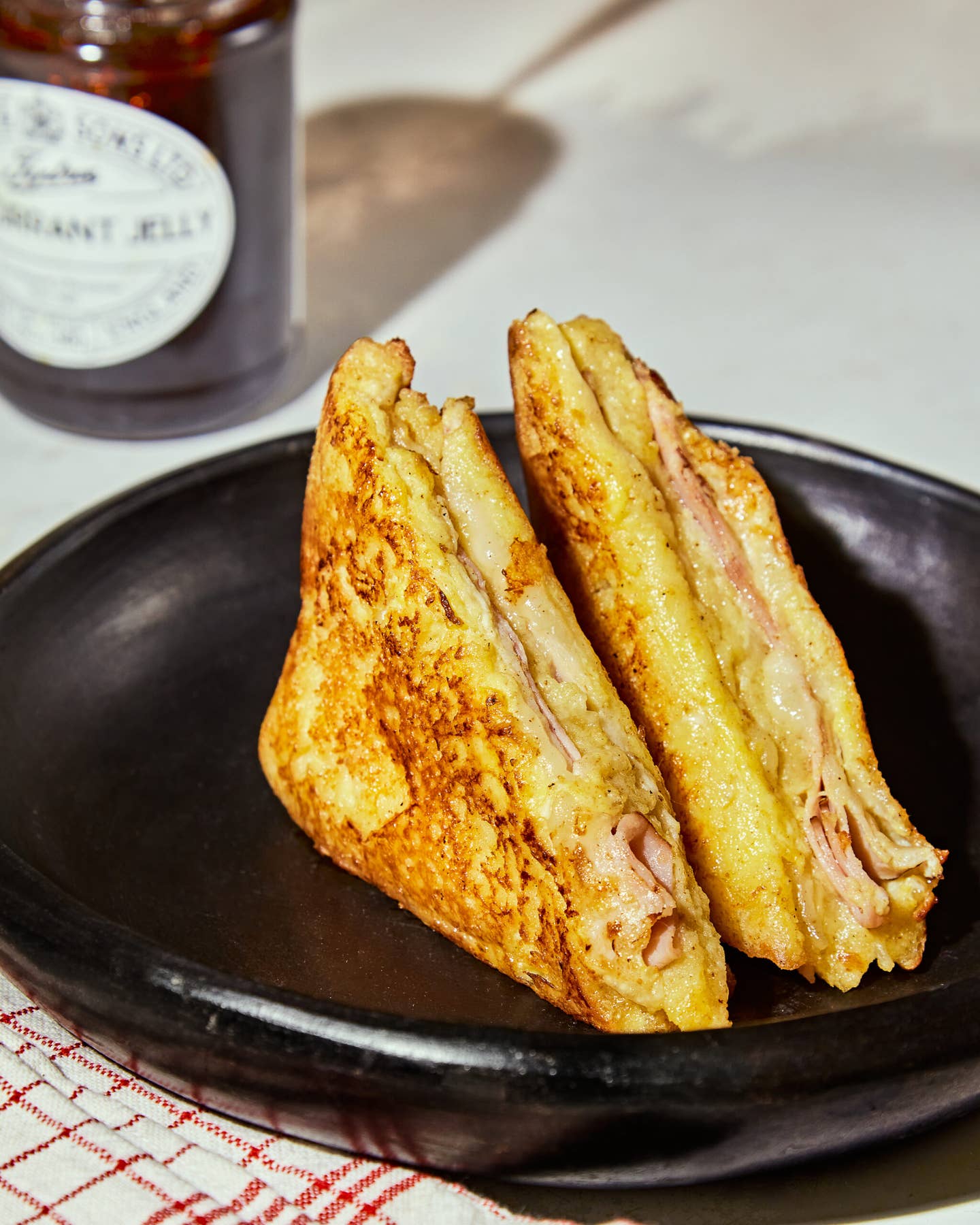 People have strong opinions about the Monte Cristo sandwich, a double-decker of Swiss cheese, ham, and chicken or turkey, which is battered, fried, dusted with confectioners sugar, and served with a side of tart red jelly. Some consider it a marvel; others, an absurdity. Divisiveness aside, the perfect Monte Cristo recipe is an impressive one; the resulting sandwich is a stunning creation, requiring a knife and fork at the table. This recipe ran alongside Carolynn Carreño's 1998 article, "Fried Nirvana?"
Ingredients
2 large eggs
¼ cup whole milk
Kosher salt and freshly ground black pepper
5 Tbsp. unsalted butter, divided
6 thin slices white bread
4 thin slices cooked turkey
4 thin slices cooked ham
4 thin slices Swiss cheese
Confectioners sugar, for garnish (optional)
Red currant jelly, for serving
Instructions
Step 1
In a shallow bowl, whisk together the eggs and milk; season lightly with salt and black pepper and set aside.
Step 2
For each sandwich, lightly butter 3 slices of bread on both sides (using a total of about 1 tablespoon of the butter). Place 2 slices each of turkey and ham between 2 slices of bread. Top with 2 slices of cheese, and then top with a third slice of buttered bread. Trim crusts, secure with toothpicks, and cut in half on the diagonal. Repeat with the remaining bread, turkey, ham, and cheese.
Step 3
In a large nonstick or well-seasoned cast iron skillet over medium heat, melt 2 tablespoons of the butter. Dip the sandwich halves in the reserved egg-milk mixture to coat. When the melted butter foams, place the sandwiches in the skillet and cook until golden brown on one side, about 2 minutes. Add the remaining 2 tablespoons of butter to the skillet, flip the sandwiches, and continue cooking until browned on the other side, about 2 minutes more. Transfer the sandwiches to 2 plates, sprinkle with confectioners sugar (if desired), and serve hot with red currant jelly on the side.