Recipes
Roasted Morel-Rubbed Chicken with Charred Lemon, Asparagus, and Potatoes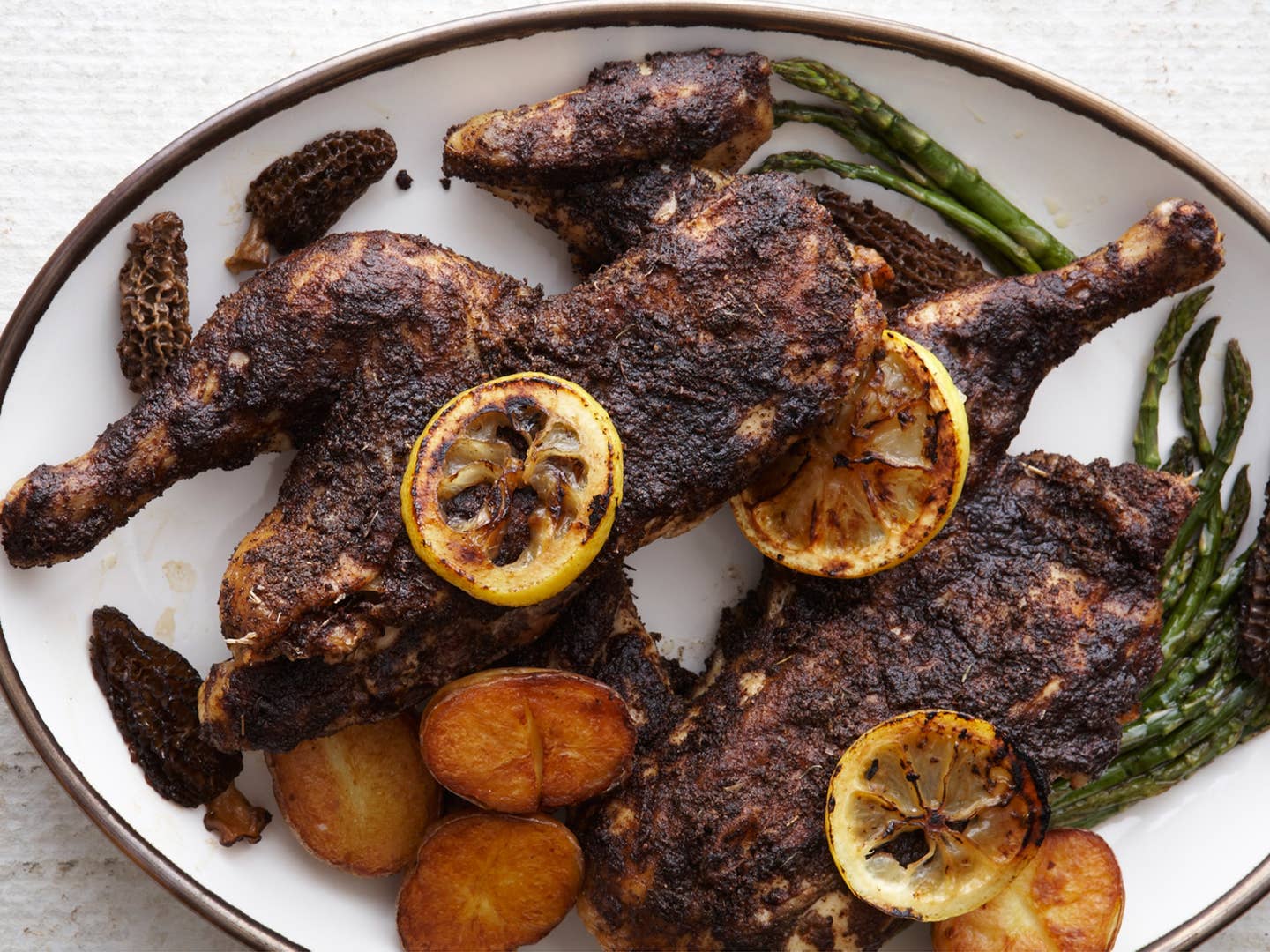 At chef John Fleer's restaurant Rhubarb, in Asheville, North Carolina, dried morels are pulverized and rubbed onto the chicken before roasting to perfume the bird and help produce evenly browned skin. Fresh morels soak up the juices released from the chicken as it roasts. If fresh morels are not available, 1 oz. of dried and reconstituted morels will yield about 4 oz. of fresh.
Ingredients
1 (3 1/2–4) lb. chicken, backbone removed, chicken halved
Kosher salt and freshly ground black pepper, to taste
1 oz. dried morel mushrooms
6 tbsp. olive oil
1 tsp. dried thyme
1⁄2 tsp. ground mustard
1⁄8 tsp. cayenne
1 tsp. dried carrot powder
1 lb. baby Yukon Gold potatoes
2 lemons, sliced 1/4" thick, seeds discarded
1 lb. asparagus, trimmed
8 oz. fresh morels, cleaned, trimmed, and halved lengthwise
1 tsp. fenugreek seeds
Instructions
Step 1
Place chicken on a plate and season liberally on both sides with salt. Grind dried morels in a spice grinder into a powder and transfer to a bowl; stir in 2 tbsp. oil, the thyme, mustard, cayenne, and, if using, the carrot powder. Rub morel paste over skin side of chicken; let chicken sit at room temperature for 45 minutes or chill overnight.
Step 2
Heat oven to 375°. Bring potatoes to a boil in a 4-qt. saucepan of salted water. Reduce heat to medium-high. Cook potatoes until tender, about 15 minutes. Drain potatoes and let cool; halve and transfer to a bowl. Meanwhile heat a 10" cast-iron skillet over high. Toss 1 tbsp. oil, the lemons, salt, and pepper in a bowl. Arrange lemon slices in a single layer in skillet; cook, flipping once, until charred, 3–4 minutes. Transfer half the lemon slices to the bowl with potatoes. Add remaining oil, the asparagus, morels, fenugreek, salt, and pepper to potatoes, and toss to combine; spread in an even layer on a baking sheet. Place chicken, skin side up, over the vegetables; roast until an instant-read thermometer inserted into the thickest part of the chicken reads 165°, 40–45 minutes. Heat oven broiler; broil until skin of chicken is crisp and potatoes are browned, 4–6 minutes. Let chicken rest 10 minutes before carving. Garnish with remaining charred lemon slices.