Recipes
Ricotta Crostini with Cherry Tomatoes
These quick Italian toasts are our go-to starter of the season.
Serves

4–6 as an appetizer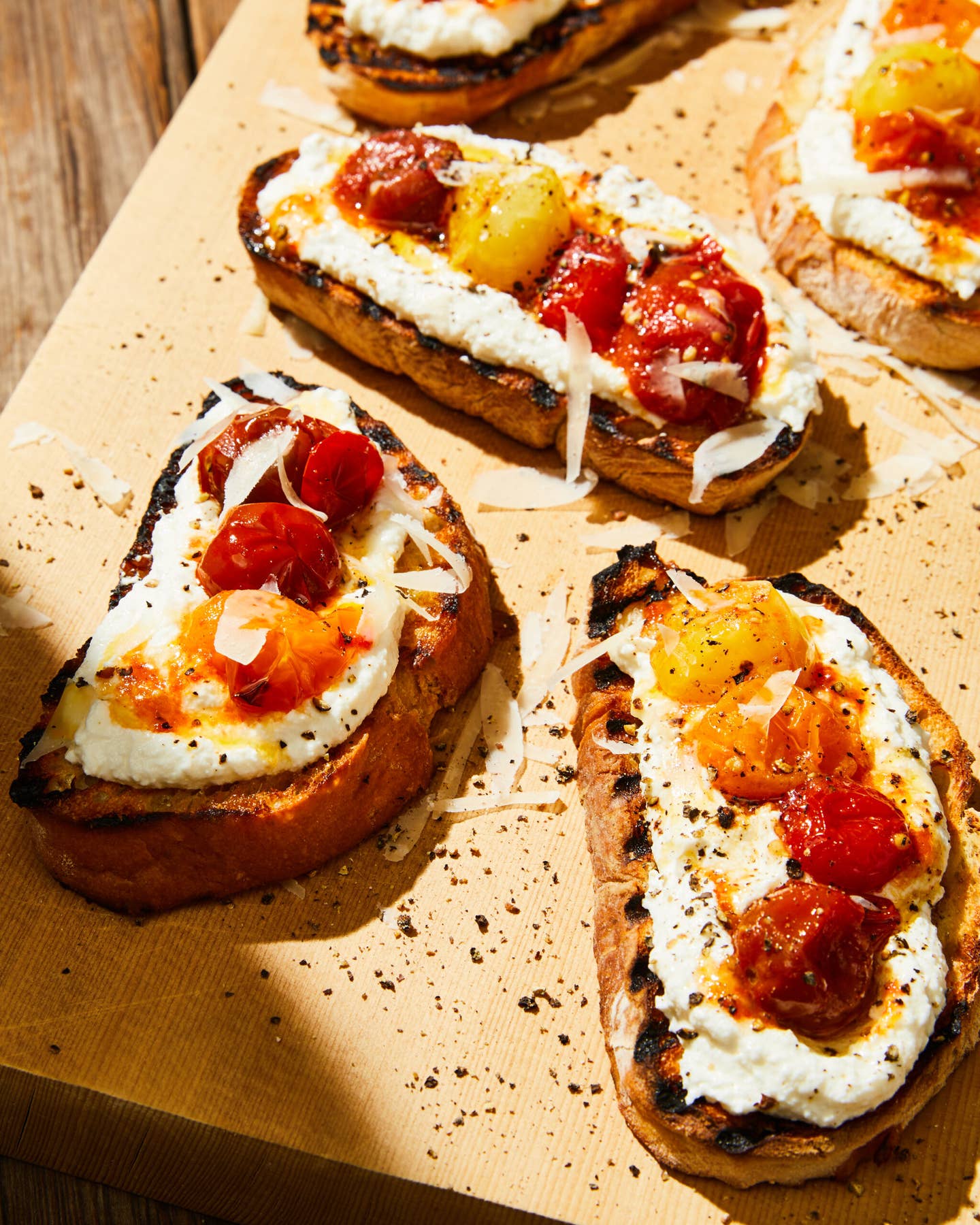 It doesn't get much simpler—or more satisfying—than this Italian ricotta crostini recipe that comes together in under 20 minutes. We love using past-their-prime cherry tomatoes here, since they're extra sweet and break down in no time. If you've already got the grill going, use it to toast the bread in step 2.
Ingredients
1 cup cherry tomatoes
1 Tbsp. extra-virgin olive oil, plus more for drizzling
Kosher salt and freshly ground black pepper
1 small loaf of ciabatta or other crusty bread, cut into ½-in. slices
1 garlic clove, peeled
1–1½ cups ricotta cheese, preferably at room temperature
Parmesan cheese, coarsely grated
Instructions
Step 1
Position a rack 5 inches from the broiler element and preheat to high. On a small rimmed baking sheet or in a heatproof skillet, toss the tomatoes with the oil and season with salt and black pepper. Broil until they've burst and released some of their juices, about 8 minutes. Remove from the oven and set aside.
Step 2
Drizzle the bread with olive oil. In a grill pan set over medium-high heat, toast both sides of the bread until beginning to char, about 5 minutes total. (Alternatively, place directly on the oven rack and broil, turning once, until toasted on both sides, about 5 minutes.)
Step 3
Rub one side of each crostini with the garlic, then top with a dollop of ricotta and spread to the edges. Spoon evenly with the reserved tomatoes and their juices, then sprinkle with the parmesan and more salt and black pepper.