Recipes
Roulade de Saumon aux Crabes des Neiges (Smoked Salmon Stuffed with Cottage Cheese and Crab)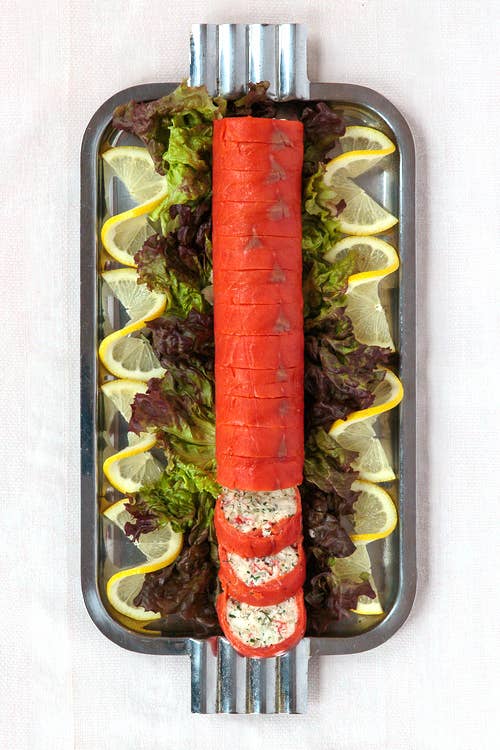 This elaborate appetizer is based on one served at the seafood festival on the Atlantic island of Miquelon. We use snow crab in this recipe, but Dungeness or jumbo lump crabmeat works just as well. This recipe first appeared in our April 2014 issue.
Ingredients
14 slices smoked salmon
1⁄2 cup homemade fish stock, or store-bought, chilled
1 tbsp. powdered gelatin
4 oz. cream cheese, softened
2 cups small curd cottage cheese, drained overnight
3 tbsp. minced chives
2 tbsp. minced dill
2 tbsp. minced tarragon
Kosher salt and freshly ground black pepper, to taste
10 oz. cooked snow crab meat, finely shredded
Lettuce leaves and sliced lemon twists, for garnish (optional)
Instructions
Step 1
Line a work surface with plastic wrap; arrange salmon slices, overlapping slightly, in a 14″ row over plastic; set aside.
Step 2
Place half the stock in a large bowl; sprinkle in gelatin and let sit 10 minutes. Bring remaining stock to a simmer in a 1-qt. saucepan; whisk into gelatin mixture. Stir in cheeses, chives, dill, tarragon, salt, and pepper; fold in crab. Spread mixture lengthwise along center of salmon leaving a 1″ border at each end; fold ends of salmon over filling. Working from one long end and using plastic wrap to lift and guide, roll salmon up and over filling, creating a log; twist ends of plastic wrap to secure. Chill until firm, about 1 hour. To serve, unwrap and transfer to a platter; slice crosswise into 1″-thick slices. Garnish with lettuce leaves and sliced lemon twists, if you like.